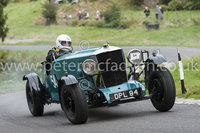 Monday 15 September 2014
Loton Park Hill Climb Provisional Results & Photo Gallery Now Live
Provisional Results from the final VSCC Hill Climb of the season at Loton Park, which took place this past weekend, the 13/14 September, are now available to download.
Sir Michael Leighton's idyllic deer park proved the ever-welcoming venue as the VSCC arrived to contest the final Hill Climb of a busy and entertaining 80
th
Anniversary year. Perhaps it was due to the latter that the event saw another terrific number of entries, with over 150 Pre-war and Historic Racing and Sports-Cars comprising the eighteen classes, ranging from the weekend's oldest in Andy Lloyd's wonderfully original 1913 Chalmers 17 to the 1958 Morgan 4/4 Sports shared by Club Director Dick Patten and son Christopher. Needless to say the stellar crowds in attendance over the two-day competition were treated to the usual fascinating and eclectic line-up so associated with the VSCC.
In stark contrast to recent years, a dry and mild weekend ensured consistent track conditions for the duration, leaving mechanical preparation and driver performance to ultimately determine the final standings. Thus was competition rife throughout with mere tenths of seconds deciding the Class and other award winners. As ever, Saturday's two Practice Runs provided competitors with the perfect platform to fine-tune their skills and perfect their racing lines up Loton's challenging 1475 yard ascent with the vast majority of the entry showing encouraging progress in their times through the day. Following Saturday evening's traditional and much-loved 'Hog Roast' social – perhaps the overwhelming highlight of the weekend for many – attention soon returned to the competition on Sunday morning with two Timed Runs on offer.
Making his first appearance at Loton, Jeremy Flann scored an impressive victory in Class 2, ahead of John Collins, enjoying a fantastic 2014 campaign with his Riley Brooklands; Jo Blakeney-Edwards just got the better of husband Simon as they went head-to-head in similar Frazer Nash Super Sports models, whilst Richard Houlgate continued his impressive results in Class 4 in the Lea-Francis and Nigel Hall topped an extremely close contest in Class 5/6 in his Lagonda LG45. Kevin Morton and David Furnell continued their year-long battle in Class 8, the Riley pilot victor this time out and Dudley Sterry's HRS again proved its superiority in Class 10. The standout Sports-Car performance undoubtedly came from perennial table-topper, David Pryke, who broke a 9-year old record in the process of taking victory in Class 9 in his Morgan/Riley in a time of 67.30 secs. Jonathan Miller was an expected winner in the Edwardian Class in his Stutz Bearcat with William Twelvetrees awarded the unusual 'Tidd & Ingham Trophy' as the 10
th
Slowest Time overall in the Buick D45. The Racing Classes proved no less enthralling – Anthony Garner topped the small capacity standings in his Lagonda Richmond Rapier whilst there was no surprise in Class 15 with Tim Greenhill on top in his Wolseley Hornet and fourth overall. Richard Ashford was the pick of the Post-war Class in the Cooper T9.
It was much a case of 'the usual suspects' battling it out for overall honours. A 64.57 second run was enough to see Rob Cobden reclaim his Class 14 crown in his Riley Falcon ahead of Riley chum, Pete Candy but alas not sufficient to take the Fastest Time of Day; that went to a new face in a familiar machine as Tom Walker took the FTD and Class 12/16 spoils in the Hispano/Amilcar, ahead of the day's only other sub-65 man in Julian Grimwade in the Frazer Nash Norris Special. Charlie Martin's incredible Hill Climb season ended as it began, with Fastest Vintage in the exuberant Morgan 'RIP' Special.
As ever, our thanks go to David and Robin Baker for again hosting Saturday evening's wonderful social, to our team of local Club Members for their efforts promoting and running the event, and to all the Competitors, Officials and Marshals for their part in yet another memorable Loton Park Hill Climb.
Visit the Event Page (
CLICK HERE
) to download Provisional Results. A selection of photos from the event will be uploaded to this page as they are received.