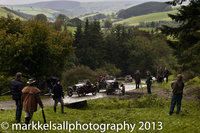 Friday 19 September 2014
Calling all Marshals – volunteers needed for the VSCC Welsh Trial!
Next month will see the Club celebrate an historic 75th Annual Welsh Weekend on 11/12 October, based as ever at the Radnorshire Arms in the town of Presteigne, who have welcomed the VSCC so warmly through the years. But we are still looking for a number of volunteers to help marshal the Trials Sections on both days!
We rely on a number of volunteers to run the sections on event day, marking competitors' scores and ensuring the safe passage of all cars and their passengers through and off the sections. With the exception of a few special sections, trials are closed to spectators, making marshalling the ideal chance for non-competing members to get up close to the action and be involved with the Club's sporting activities. It is a fantastic social occasion and you are sure to meet like-minded enthusiasts from across the Membership whilst giving a little something back to the Club.
The Welsh Trial is open exclusively to Vintage cars (i.e. Pre-1931), with crews looking forward to experiencing the thrill of competing on classic trials sections such as Smatcher – first used by the Club in 1939 – and eventually navigating their way on to the welcome sight of the Cwm Whitton farm complex, where the Sunday afternoon sections are based. So come and join us on this historic occasion for one of the most popular weekends on the VSCC calendar.
If you would like to offer to marshal on either Saturday or Sunday (or both) please contact the Competition Department as soon as possible on 01608 644777 Ext 4 or email
andy.halstead@vscc.co.uk
And why not get involved in another Welsh event in November...
The Motor Sports Association is currently recruiting for marshals for November's
Wales Rally GB
, taking place from Tuesday 11 to Sunday 16 November.
As one of the most prestigious events of the British Motorsport calendar, the MSA are desperate to recapture some of the spirit and excitement that surrounded the event in previous years and have written to all MSA-registered Clubs inviting them to get involved.
As an added incentive, they have introduced a few changes this year, including several Special Prize draws, Marshals' Gifts for each day attended, access to the Deeside Service Park throughout the Rally and more.
Those interested should register for the event on
www.RallyStageTeam.co.uk
. After registering for the event, marshals will receive an email confirmation and regular newsletters in the run up to the event. Before the event, the staffing team will post out the stage information, marshal and vehicle passes. More information on the event can be found at
www.walesrallygb.com
under the 'Marshals' tab.
So why not get involved in one of the UK's showpiece events and fly the flag for the VSCC and our marshals on the international stage!