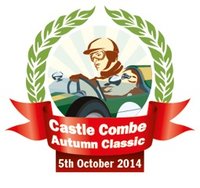 Monday 29 September 2014
Advance Member Ticket Sales for Castle Combe Autumn Classic Close Today
Today is your last chance to purchase advance member discounted tickets for the Castle Combe Autumn Classic, where the VSCC is hosting a grid featuring Pre-war Sports-Cars, this Sunday 5 October.
With its 64 year history, Castle Combe Circuit has always provided tried and trusted motor sport entertainment. But in 2012, a simple idea for a 'Classic' themed meeting proved to be one of its best and with last year's event hailed as even more of a success, 2014 is shaping up to be the best yet!
With eight races the fabulous cars speak for themselves, with a mixture of the very ancient to sixties single-seaters in the shape of the popular Formula Juniors. The 'Big Healeys' will be as competitive as ever while the crowd-pleasing 500cc Formula 3 cars return for the first time since 1955. Add in pre-66 Jaguars, historic Aston Martins and a 1950s sports car Inter-marque race and you have a full afternoon.
The whole circuit will be stepping back in time, with numerous club stands, displays and period style aplenty.
Tickets are available at the cost of
Adult - £15
Senior - £10
under 17's - Free of Charge
VSCC Members can benefit from a 'Buy one get one free' offer when quoting VSCC2014 upon booking their advance tickets by contacting 
Castle Combe Circuit on 01249 782417, 
email
sales@castlecombecircuit.co.uk
or
www.castlecombeautumnclassic.co.uk/contact-us/