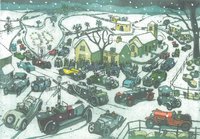 Thursday 30 October 2014
VSCC CHRISTMAS CARD 2014
It's that time of the year again, and we are delighted to be able to offer Members and Vintage Car enthusiasts another superb Christmas card from ever popular artist and Club member Richard Wade, with prices remaining unchanged from 2013.
"And this will be the sign" celebrates the Club's 80
th
Anniversary year, so please do consider sending it as your family card this year. It is a great advertisement for the Club and our sort of cars. Sales are also a considerable help for Club funds.
Once again, the Club is able to offer an over-printing service, subject to a minimum order quantity. Please contact Gill Batkin on 01608 644777ext 5 or gill.batkin@vscc.co.uk for full details.
TO ORDER YOUR CHRISTMAS CARDS ONLINE CLICK HERE
Closing date for ordering cards is Monday 1 December for UK, 28 November for Europe and 19 November for the rest of the world.
Please note that all UK delivery cards will be despatched directly from the printer. If you would like to order cards to be posted overseas, please call Gill Batkin on 01608 644777 ext 5 for the price of postage to your destination.
Prices including UK delivery from the printers are:
10 £7.50 15 £11.25
20 £15.00 25 £18.75
30 £22.50 35 £26.25
40 £30.00 50 £36.00
60 £42.98 10% discount 70 £49.88
80 £56.70 90 £63.45
100 £70.13 110 £76.73
120 £83.25 130 £89.70
140 £96.08 150 £102.38
160 £108.60 15% discount 170 £114.75
180 £120.83 190 £126.83
200 £132.75 210 £138.60
220 £144.38 230 £150.08
240 £155.70 250 £161.25
260 £166.73 270 £172.13
280 £177.45 290 £182.70
300 £187.88