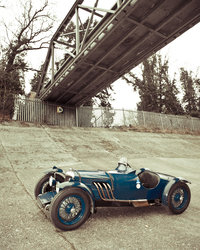 Thursday 31 January 2013
Brilliant to be at Brooklands
Vintage Sports-Car Club members are revered in motoring circles as a hardy bunch; they simply can't wait to get their Pre-war cars back in action after the winter break (save those hardy souls who have already braved the cold for our overnight Measham Rally in early January) and consequently a superb entry of nearly 70 of the VSCC's best will be in action this Sunday (3 February 2013) on the hallowed turf at Brooklands Museum in Surrey for the New Year Driving Tests.
The birthplace of British Motor Sport and Aviation is the ideal arena for our competitors to brush away the winter cobwebs with Tests set around the historic site, including the famous 'Test Hill' and the original banking. The Club is ever grateful to Brooklands Museum for hosting the VSCC and are confident that our members and their cars will put on a brilliant spectacle for all to enjoy.
As with all VSCC events, the competition boasts an eclectic mix of Pre-war cars: two
centurions
go head-to-head in our Edwardian Class with Mike Mutters's 1913 Minerva taking on young Katy Sharpe in her first ever event with the Club, driving her father's 1912 Sunbeam Coupe De L'Auto – a brave choice! They may not win any speed awards but will certainly provide some entertainment. The humble Austin 7 dominates the rest of today's entry, comprising almost a third of the 60 plus cars entered. From the tidy
Chummy
to the sporty
Ulster
models, the celebrated British marque is well represented, reflective of its popularity within VSCC circles. However, they are by no means the only brand participating with a plethora of other revered Pre-war badges on show, including Bentley, Bugatti and MG, whilst pilots of Riley and Frazer Nash will be locking horns again as the fight for the Club's prestigious Intermarque Trophy in 2013 hots up. Many partners, brothers, friends and fathers and sons battle against each other in 'shared cars'– there will no doubt an extra competitive edge in these camps as they fight for bragging rights. Sunday is all set to be a terrific day's competition.
For those new to the discipline, Driving Tests require entrants to manoeuvre their cars around bollards, into 'parking spaces' and stop astride lines all against the clock, with only a complex diagram to guide them; penalties are accrued for hitting bollards, wrong tests and poor braking whilst each car is awarded a bonus dependant on certain factors such as age, wheelbase length, tyres and brakes. They are a true test of a driver's skill, intelligence and familiarity of his machine where the quickest and most accurate will come out on top.
Click here
to find out more about VSCC Driving Tests.
The VSCC's history books show that the first Driving Tests were held in the early Post-war years, with an event at Madresfield, (where we still run an event) in 1947 laying claim to being the first. The Club host four Driving Tests each year, they are ever popular with competitors because they offer the chance to drive to the limit in all manner of Pre-war machinery in a historical venue. The Club returns to Brooklands on 15-16 June for the Double Twelve Motorsport Festival.
Anyone is welcome to come and spectate on Sunday, the site opens at 9.00 am and the museum at 10.00am. Competitors will be in action from 10.00am with a break for lunch and then resume from 1.30pm until dusk.
Entry prices are as follows;
£10 for Adults
£9 for Senior Citizens and Students
£5.50 for children aged 5-16 (under 5's go free)
A Family ticket (2 Adults, 2 Children) is available for £27.
VSCC card-carrying members will receive a £1 reduction for themselves and anyone with them on these prices and will be offered Family tickets for £23.
Brooklands Museum is between Weybridge and Byfleet, just a few minutes from Junction 10 of the M25 and the A3 London-Portsmouth trunk road. Leave the A3 at the Painshill junction and follow the A245 towards Byfleet - look out for the brown 'Brooklands Museum' signs.
The Heights Car Park, via Wellington Way (follow the signs to 'The Heights').
Click here
to visit the Brooklands Museum website.