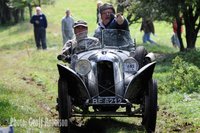 Monday 13 October 2014
Provisional Results from the Welsh Weekend are now Live
Members can now download Provisional Results from both events of the 75th Anniversary Welsh Weekend, including the Trial and Vintage Rally, which took place this past weekend, the 11/12 October.
The Trial once again proved a fantastic two days of competition. Continuing his good form from earlier in the season, Matt Johnston made it two victories on the trot – he scored an inaugural win at April's Scottish Trial – piloting his Austin 7 to top spot and the Harry Bowler Memorial Trophy. Local knowledge was perhaps key in the Long Wheelbase classes as Gareth Graham's strong showing saw him take the Presteigne Trophy in his Bentley 3/4½ Litre. James Price was recipient of the Smatcher Trophy whilst the Judge's Gavel for the best score out of the ten youngest competitors was shared between 17 year old Matt Price, competing on his first trial, and 19 year old James Painter in their respective Austin 7s. Amongst the 'Standard' cars, David Leigh was a runaway winner of the Short Wheelbase Class in his competitive Frazer Nash Interceptor whilst Hugh McGarel-Groves led a Ford Model A dominated Long Wheelbase contingent in his Roadster.
Sunday's Vintage Welsh Rally has also received a great response from participants, with the day's route and instructions proving a hit with competitors of all classes. Regular Club Steward at VSCC Race Meetings, Stephen Harvey took top honours with experienced navigator Ian Dobinson, receiving the Talyllyn Trophy in the Riley Lynx whilst a 'clean sweep' in the Second Half saw Mike Fountain and John Vincent cruise to victory in the Semi-Experts Class in their Lagonda. Martin Trentham and Anji Martin were Novice Class winners in a Bentley 4½ Litre whilst Paul Connor and Lyn Walby were best of the Champagne Class in their Riley Monaco.
Our thanks go to the organising teams of both events for their efforts in providing yet another spectacular Welsh Weekend in this milestone 75
th
year of this most prestigious Club event. We also thank the landowners and local residents in and around Presteigne for welcoming us so warmly once again, and all Competitors, Marshals and other Officials for their part in a most successful weekend of Pre-war motoring.
Follow the links to the relevant Event Page below:
Welsh Trial (
CLICK HERE
)
Vintage Welsh Rally (
CLICK HERE
)
Photos from the events will be added to the gallery on the relevant Event Pages as they are received.