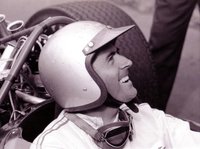 Wednesday 15 October 2014
Motorsport Fraternity & Fans Invited To Attend Sir Jack Brabham Memorial
VSCC Members are invited to attend The Sir Jack Brabham Memorial, which will be held at the Silverstone Wing at 2pm on Friday 24 October, to celebrate the outstanding life and achievements of the triple Formula 1 World Champion and raise funds for Kidney Research UK.
Hosted by the BRDC and organised by Sir Jack's youngest son, David, the Memorial will provide an opportunity for those who were unable to attend the state funeral in Australia to reminisce and pay their respects.
The motorsport fraternity and Sir Jack's fans alike are welcome to be a part of this special event, attendance for which is limited to 600 people. To request a ticket to attend, please contact Deborah Jennings at
deborah.jennings@brdc.co.uk
or call 01327 850925 by this coming
Friday 17 October
.
Sir Jack, the legendary driver and engineer who passed away in May, suffered from kidney disease and underwent dialysis for many years. He was renowned for his tremendous contribution to raising awareness of kidney disease, particularly in Australia. In the hope of continuing Jack's efforts, the Sir Jack Brabham Memorial will raise funds for Kidney Research - the only UK based charity dedicated to funding research to create a world free from kidney disease.
The afternoon of celebration will feature stage interviews with a number of Sir Jack's friends and racing colleagues including special guests Sir Stirling Moss, Sir Frank Williams, Sir Jackie Stewart, John Surtees, Tony Brooks and Nick Goozée.
Sir Jack's widow, Lady Margaret will be flying over from Australia while Geoffrey and Matthew Brabham will make a special trip from the USA to attend. Guests will also have the opportunity to enjoy seldom seen film footage and some of Jack's treasured personal artifacts.
A stunning array of Brabham cars will be on display, charting not only Sir Jack's remarkable racing history but also the Brabham marque's rise to becoming the biggest racing car manufacturer of the 1960s.
Adorning the Silverstone Wing will be a Cooper-Climax T53 signifying Jack's second Formula 1 World Championship in 1960; the first Brabham F1 car ever built in 1962 - the BT3; the BT11 – a predecessor to the 1966 world beating BT19; the BT20 in which Sir Jack completed his '66 championship year; a Brabham BT24 from 1967 and Sir Jack's final F1 car, the Brabham BT33 in which he took his last Grand Prix win in South Africa 1970. Completing the collection will be also a Brabham BT6 1963 Formula Junior car and BT8 1964 sports-car.
For those unable to attend, memorial donations can be made to Kidney Research UK via
www.justgiving.com/SirJackBrabham
Sandra Currie, Chief Executive of Kidney Research UK said; "Sir Jack Brabham said living with Kidney failure was one of the toughest drives of his life, and for many years he was an active and valuable supporter of kidney charities in his native Australia. Kidney Research UK is dedicated to funding research into the causes, treatment and prevention of kidney disease. We fund projects across the UK, seeking breakthroughs that will have both local and global impact. We are very grateful to the Brabham family for continuing his legacy by supporting our essential work that will improve the lives of many thousands of people affected by this often silent killer."
David Brabham said: "My father's memorial on the 24th of October will be a special event. He touched and inspired so many people's lives that it is only appropriate to have a celebration of his life for those who could not make his state funeral in Australia. It will be quite something listening to my father's legendary competitors talk about their experiences of 'Black Jack' and how he influenced their lives."
Brabham, one of the most successful names in motorsport history has recently launched Project Brabham in a bid to come back as a world-class racing team. In the pioneering spirit of triple Formula 1 World Champion Sir Jack, Brabham will return through an innovative model of open source racing to build and fund a sustainable team.
The exciting new journey begins with Project Brabham, where the motorsport community can become a key part of the team and shape its future through crowdfunding. The first to back Brabham Racing's vision will get exclusive rewards only available through this first phase, while a variety of packages enable people to get involved for as little as one pound. For full details on Project Brabham visit
www.brabham.co.uk
and download the latest Press Releases below:
Project Brabham Launched To Bring Iconic Team Back To Racing – Join the Journey
Project Brabham Hits Halfway On First Target In 3½ Days