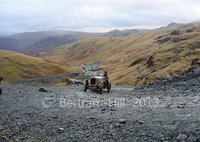 Friday 07 November 2014
It's Trialling the 'Cumbrian Way' for the VSCC Lakeland Trial this weekend
The Club's Winter Trials Season continues in earnest this weekend as yet another capacity entry of 100 Pre-war cars descends on Cumbria for the annual Lakeland Trial, again based at the warm surroundings of The Wheatsheaf Inn in Low Lorton tomorrow, Saturday 8 November.
A bumper day of 14 sections awaits, with the famous 'Drumhouse' section at Honister Slate Mine the undoubted highlight for many – the long, steep quarry road leading up the side of 2,126ft Fleetwith Pike is often regarded the ultimate test of our Pre-war machinery, with its tortuous hairpin bends and rocky terrain. Due to the Forestry Commission's extensive felling programme, we will not be visiting Beck Wythop Forest this year but a number of new sections in the familiar Whinlatter and Hobcarton areas are sure to make up for the hiatus and provide a challenging and enjoyable day for our participants.
The ever-popular one day event again attracts entrants from all corners of the UK whilst we also welcome Netherlands-based Member, Juri Castricum, who makes his competitive VSCC debut in his Ford Model A Phaeton. His is one of an army of the ubiquitous model which will contest the Long Wheelbase standings, with Dennis Bingham's example likely to challenge Robert Frankcom's fellow-American Dodge 129 Fast Four in the Standard Class. It is sure to be a close affair amongst the Modified/Specials too, with a number of previous Class Winners on hand – Paul Jeavons will be keen to repeat his victory of last year in his Vauxhall 30-98 Tourer. But will he be able to challenge the Short Wheelbase brigade for the day's top honours?
Having dominated the event for the past two seasons, it would take a brave man to bet against Frazer Nash Club Captain, Louise Bunting, making it a hat-trick of Bridge Trophy victories in her 1919 GN Touring – it would in fact make it five in a row for the car, with Louise's partner, Richard Parsons piloting the cyclecar to wins in 2010 and 2011. It will be no easy task this year, however, with a host of past VSCC Trials winners snapping at her heels. Usual suspects, David Golightly (Ford Model T) and Donald Skelton (Austin 7) are likely contenders but perhaps the biggest challenge will come from Matt Johnston, winner last time out at our Welsh Trial and in imperious form this year in his Austin 7. Of the Standard cars, expect to see another 'Chain Gang' member dominate proceedings in David Leigh's Frazer Nash Interceptor.
Spectators are welcome to come and watch the action at 'Drumhouse' at the Honister Slate Mine from 9.00am to 4.00pm, where there will be plenty of public parking for a small fee to the venue and catering facilities on site whilst there will also be access to a couple of the Whinlatter Forest sections this year.
Download the Spectator Information, which contains full details of event times, locations of Spectator sections and Entry List for the event by clicking on the link below.
CLICK HERE TO DOWNLOAD THE LAKELAND TRIAL SPECTATOR INFORMATION