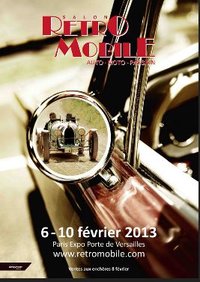 Friday 01 February 2013
All Primed up for Paris!
Enthusiasts of Vintage and Historic motoring make their annual pilgrimage to Paris, France next week for the annual
Retromobile Show
at Port Versailles (Wednesday 6 February-Sunday 10 February).
The Vintage Sports-Car Club are standing at the
Bonhams Grand Palais Auction
on Thursday 7 February, so if you are in town, please do come and say hello. The stand will be selling memberships so if you are with a friend who has 'always been intending to join up' bring them along to save the £15 joining fee.
The Bonhams Motoring Department have once again organised a highly impressive sale at the stunning location of the Grand Palais.
Leading the consignments is the 1929 American Moth Corporation DH 60GMW Gipsy Moth bi-plane which featured in the seven-times Oscar-winning 1985 film
Out of Africa
, which starred Robert Redford and Meryl Streep (estimate upon request). The bi-plane, in yellow-and-black livery with registration G-AAMY in homage to English aviatrix Amy Johnson, is offered in excellent condition with permit to fly.
The motor car section of the sale is led by the outstanding ex-works Bugatti Type 54 that raced at Monza on 6th September 1931 in the hands of Achille Varzi (estimate €2.5 million - €3.5 million).
Other motor cars of note include two cars that have been in their respective families' ownerships from new – a 1962 Aston Martin DB4 Vantage Cabriolet (estimate €350,000 - €450,000) and a 1949 Bentley MkVI with coachwork by Graber (estimate €75,000 - €125,000).
Also included in the sale are a 1953 Bentley R-Type Continental
(estimate €550,000 - €750,000), a 1938 Lancia Astura 4th Series Cabriolet (estimate €400,000 - €500,000), a 1928 Minerva AK 32 PK Faux Cabriolet (estimate €280,000 - €360,000) from the collection of Frenchman Serge Pozzoli, and a 1928 Rolls-Royce 'Playboy Roadster' that was once owned by American real estate developer Jerry J Moore (estimate €290,000 - €370,000).
Two single-owner collections are headlining the motorcycle section of the sale. The Garelli Grand Prix Collection comprises some two-dozen historic racing motorcycles from the celebrated Italian manufacturer, many from the factory's 1980s heyday and a selection from its pre-war days. Highlights among the machines – which will all be sold at no reserve – include the 1963 Garelli 50cc Monza world-record-breaker (estimate €50,000 - €70,000);
the ex-Eugenio Lazzarini 1983 50cc racer that helped Garelli to the manufacturers' World Championship that year (estimate €12,000 - €17,000); and a 1987 example of the 125cc twin that won six riders' World Championships and four manufacturers' titles during the 1980s (estimate €7,000 - €12,000). Also forming part of the collection are two important non-Garelli racing motorcycles: the ex-Fred Merkel Honda RC30 ridden by the American World Superbike champion during the 1989/90 season (estimate €20,000 - €30,000), and the 1989 Yamaha TZ250W used by French star Jean-François Baldé during his final season of Grand Prix racing (estimate €3,500 - €5,500).
Lining up alongside the Garellis is an important French private collection assembled by the late Claude Lesellier. The eclectic mix of some 55 machines includes French, British, German and American motorcycles dating from the early Vintage era to the modern day, including a 1916 Indian 1,000cc Powerplus (estimate €20,000 - €25,000) and a 1918 Harley-Davidson Model 18F Combination (estimate €16,000 - €20,000).
The Charles H. Brown Collection is also offered for sale..........
Mr Brown was an architect, and his collection reflects an interest in the design of the automobile from its earliest days. The collection includes automobiles spanning
more than 70 years. It features electric, petrol and steam-driven motorcars and a number of icons of automotive design, including examples of the Rolls-Royce Silver Ghost, Stanley Steamer, Detroit Electric, Lancia Lambda, Citroen Light Fifteen and Packard Twin Six. Highlights include a 1931 Bentley 8 Litre Sports Tourer that is a fine example of the vintage model which was guaranteed to achieve 100mph and had such torque that it was possible to reach this speed from standstill in top gear (estimate €500,000 - €600,000). Also in the collection is a 1927 Renault Torpedo with Art Deco coachwork by Kellner tapering back from its distinctive 'coal scuttle' bonnet that was formerly exhibited at the Louis Vuitton Classic Concours (estimate €120,000 - €150,000). Other highlights are a 1904 Pierce Stanhope that was formerly in the William Penn Memorial Museum in Pennsylvania, and two 'time-warp' unrestored cars purchased new by Mr Brown's family: a 1929 Packard and 1953 Jaguar XK120 Drophead Coupe.
To find out more about the Bonhams Grand Palais sale please
click here
to visit the Bonhams motoring department website.
Long standing supporters of the VSCC, Longstone Tyres are another friendly Anglophile face that will be at Retromobile. Exhibiting for the first time, Liz and Dougal Cawley look forward to welcoming you to their stand, F10 Hall 2/2, on the evening of the opening night (Wednesday 6 February) Longstone will be introducing some quality British Fayre to Paris with beer from the Doncaster Brewery and Stilton from Colestone Bassett.
www.longstonetyres.co.uk