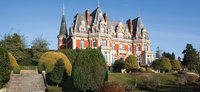 Monday 12 January 2015
VSCC join Chateau Impney for launch of 'new' Hill Climb event in July 2015
The Chateau Impney Hill Climb enjoyed a successful public launch last week with over 100 members of the Press and the wider Historic motorsport community in attendance to welcome the return of motorsport to the venue, with the event to take place over 11/12 July.
Almost half a century has passed since the popular Speed Trials events were last held in the grounds of the hotel, organised by the Hagley & District Light Car Club from 1957 until 1967. The hotel under the ownership of stalwart VSCC family the Spollons and the project led by Rod, the new event will boast a brand new, longer course – now a Hill Climb discipline in the eyes of the MSA – which will see 200 competitors compete across 19 Classes, catering for Edwardian, Vintage and Classic Cars up to 1967.
Entry for this year's inaugural Hill Climb will be by invitation only with a number of our own Club Members anticipated to be amongst the runners. The event will bring together a number of Clubs in celebration of historic motorsport, with the Vintage Sports-Car Club named as one of the official Associated Clubs.
Away from the track activity, the event will provide a host of other activities to entertain the expected 10,000 spectators over the weekend around the picturesque parkland venue, including a Concours d'Elegance – to be judged by the general public –trade zone and auction hosted by H&H Classics, who join Footman James and Classic & Sports Car Magazine as lead sponsors.
General admission tickets will include access to all viewing areas and grandstands along the course with a number of large screens beaming the live action throughout. Under 16s go free when accompanying an adult. Tickets for the Chateau Impney Hill Climb go on sale from 31 January. Tickets for each day are available, as well as a weekend pass for the whole event, and any ticket purchases made online before Tuesday 30 June will receive a 10 per cent discount.
You can read more about the event at the dedicated website
www.chateauimpneyhillclimb.com
or follow the links below:
CLICK HERE to read the latest Press Release for the Chateau Impney Hill Climb
CLICK HERE to watch the Chateau Impney Hill Climb Launch Event Video