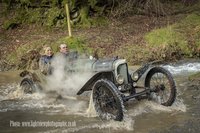 Thursday 29 January 2015
Last Chance to enter the first VSCC Trial of 2015
The ever-popular VSCC Trials Season is almost upon us and begins with a romantic Valentine's Day out at the Exmoor Fringe Trial on Saturday 14 February. But hurry – entries close at the end of day on Monday 2 February so don't miss your chance and submit your entry this weekend.
What better way to start our 2015 Trials than with the Club's annual February visit to the South-West? Long-time helmsman of the Exmoor 'Fringe' Trial, Graham White once again takes the reins for the VSCC's traditional season curtain-raiser and will no doubt be offering a challenging but exciting day's competition, based again at the cosy surroundings of The Anchor Inn.
With its thick forests, muddy fields and rolling moors, Exmoor is undoubtedly a stunning location to trial so do not miss the chance to take part in one of the Club's most loved events – just be sure to wrap up warm as winter is bound to be holding us in a grip of iron.
COMPETITOR INFORMATION
Entry Fee £65.00
Opening Date for Entries: NOW 

Closing Date for Entries: Monday 2 February
Members can enter online or download an Entry Form to print and return from the Event Page (
CLICK HERE
). You will need to have a current payment card lodged with the Office and know the Buff Form number of the car you wish to enter if using the online facility.
MARSHALS
Many thanks to those who have already offered to marshal on the day. The Exmoor Fringe runs morning and afternoon hills; marshals on duty 8.30am – 1.00pm or 11.30am – 5.00pm respectively, giving some opportunity to view a hill or two during the alternative period. Please volunteer to the Competition Department, 01608 644777 (Ext 4) or email
andy.halstead@vscc.co.uk
.
IMPORTANT NOTICE
All sections are now on private land, with difficult access and very limited parking space so please note that there are strictly
NO SPECTATORS
this year (if you wish to be involved see 'Marshals' above).
AND BREAKING NEWS....
Entries are now open for all our Trials for the first half of the year so get your entries is now to ensure you're in the mix – they're sure to fill fast!
Members can now enter online or download an Entry Form to complete and return at the relevant Event Pages – follow the links below:
John Harris (Derbyshire) Trial, Ashover, Derbyshire – 7 March (CLICK HERE)
Herefordshire Trial, How Caple Court, Herefordshire – 14/15 March (CLICK HERE)
Scottish Trial, Biggar, Lanarkshire – 11 April (CLICK HERE)