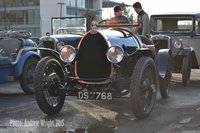 Wednesday 04 February 2015
Burgess Bugatti back on top at Brooklands
Edmund Burgess pilots his Bugatti T13 Brescia to victory at the VSCC New Year Driving Tests this past weekend at Brooklands Museum in Surrey.
Yet another well-supported entry of just under 60 Pre-war cars assembled at the hallowed grounds of Brooklands on a clear and crisp Sunday morning, the inevitable attrition following Winter 'hibernation' prohibiting a handful of competitors from signing-on. Those who did were treated to another fantastic array of Tests around the famous site, with an extra two tests squeezed into the day's usual programme of a dozen, alongside the familiar and favourite challenges on Test Hill, the Banking and Start/Finish Straight.
With over forty percent of the entry represented by the plucky Austin 7 in a variety of Touring and Sporting guises, it was appropriate to see the British stalwart perform well across the board. In the Touring Class, Harry Colledge led the way in his 1928 Chummy example ahead of fast-improving youngster Angus Frost, who continues to impress, in his PVT Austin 7 Saloon this weekend; posting the only sub-600 scores in class, they both claimed 1
st
Class awards. Two other Austins proved the pick of the Modified & Specials Sports-Cars Class too, with the Club's Trials Champion, Matt Johnston showing no end to his motorsport talents, topping the charts in the Austin Ulster TT Rep and Peter Clark a doubtlessly satisfied debutant taking second place in his Austin 7 Cambridge, just getting the better of Mark Garfitt, who added to the illustrious Pre-war Brooklands competition history of his ever-versatile Frazer Nash/BMW, with the other 1
st
Class award in the class.
It came as little surprise that the day's overall victory should be found in the Standard Sports-Car Class, where lurk the Club's perennial Driving Test winners. A regular participant at the now well-established Brooklands Double Twelve Motorsport Festival in his MG M Type, Colin Reynolds made his competitive bow as a VSCC member, scoring an impressive runner-up finish in class. Neither he nor Mark Ballard, third in his Frazer Nash Falcon TT Replica could challenge Edmund Burgess, however, who gave an expert demonstration in his Bugatti T13 Brescia to claim a dominant class and overall victory for a second consecutive year.
We would like to thank Kevin Lee and his organising team for providing yet another wonderful event, and also all other Officials, Marshals and the day's other volunteers for giving their time to ensure the day was a great success. We also thank our hosts and friends at Brooklands Museum for once again allowing us to use their historic venue.
To download Provisional Results, please visit the New Year Driving Tests Event Page (
CLICK HERE
). A selection of photos from the event is also now available to view in the gallery.