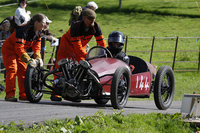 Thursday 05 February 2015
Why not volunteer to Marshal with the VSCC in 2015?
Members will shortly be receiving a copy of the 2015 Marshals' Volunteering Form with their February Newsletter. However, why not get a head start and volunteer for this year's VSCC Events via the online system, now live and available to everyone at our Marshalling pages?
Marshalling can be one of the most rewarding ways to get involved with motorsport up close, and at the VSCC we rely on a huge number of volunteer marshals and organisers to help us make our events happen. If you do not have an eligible car of your own to compete with then marshalling is the next best way to be closely involved in the Club's activities. The VSCC is proud to boast a dedicated core of marshals, many of whom volunteer for duties at several events each year, making it one of the most enjoyable and social aspects within the Club.
Duties vary from event to event and with a wide variety of roles there is something for most ages and abilities. Over 900 unpaid volunteers supported the Club in 2014, our bumper 80
th
Anniversary year, so why not join in the fun? And remember, you don't have to be a Club Member to volunteer!
2015 will be another busy year with over thirty events taking place throughout the year, from Circuit Racing to Sprints and Hill Climbs, Navigation Rallies to Trials and Driving Tests so there are plenty of opportunities to get involved. For more information visit our Event Calendar page (
CLICK HERE
).
You do not need any previous experience as on-event training is offered and we will ensure to pair up any novices with one of our experienced marshals.
Visit our Marshalling Pages (
CLICK HERE
) for more information:
Types of duties and events available
Download a PDF copy of the 2015 VSCC Marshals Volunteering Form (available soon)
Online Volunteering System (Open to both VSCC Members and Non-Members)
Those interested in getting more involved in marshalling might like to consider becoming an MSA-registered volunteer; the MSA is committed to the recruitment and retention of volunteers, whose efforts are rewarded with the chance to become more deeply involved in the sport and to enjoy the best seat in the house. For more details visit the Marshals page of their website at
www.msauk.org/Marshals
.
If you have any questions about marshalling at VSCC events please contact the Competition Department on 01608 644777 (ext 4) or email
comps@vscc.co.uk
.
Don't forget... without Marshals, there would be no motorsport!