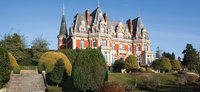 Monday 09 March 2015
VSCC ANNUAL GENERAL MEETING, AWARDS DINNER, MARSHALS' DINNER & FORUM 2015, FRIDAY 20 & SATURDAY 21 MARCH
Following last year's successful occasion, we are delighted to return to Chateau Impney Hotel, Nr Droitwich Spa, Worcestershire to combine the Club's AGM over the weekend with the our Annual Awards Dinner (Friday) and the Marshals' Forum and Dinner (Saturday) - there are still tickets available for the Awards Dinner so why not join us?!
We are also excited to announce that the weekend will also see the official launch of
"A Portrait of the Vintage Sports-Car Club, 1934-2014"
the new Club publication written by Tom Pellow. This high specification hardback of some 270 pages, illustrated by 60 photographs and 20 cartoons will initially only be available to Club Members, priced at £35 with a print run strictly limited to 1000 copies. For those unable to be at Chateau Impney, where it will be available throughout the weekend, an order form will be included in the April Newsletter.
Annual Awards Dinner, Friday 20 March
To celebrate the achievements of the Club's 2014 Award Winners, we will again host an Annual Awards Dinner. As well as a fine meal, you will be able to enjoy the company of Club Members, the presentation of the illustrious awards and an interview with our Special Guest by our Master of Ceremonies, Ian Titchmarsh.
The Dinner will be open to all Club Members and their guests but in the event of over-subscription, priority will be given to award winners and their guests. Cost is £45 per head or tables of ten for £400 and will include a 3-course meal (Wine to order).
Book your places now by completing the Booking Form (
CLICK HERE
to download) or purchase your tickets online via the Event page (
CLICK HERE
). Please note that booking for tables of ten can only be made via the Booking Form or call Gill Batkin on 01608 644777 (ext 5).
Annual General Meeting, Saturday 21 March (11.00am)
The Club's AGM will take place on Saturday morning at Chateau Impney Hotel. A formal calling for acceptance of the Club's Annual Report and Accounts for 2014 appears in the February edition of the Newsletter.
Marshals' Forum and Dinner, Saturday 21 March
The Marshals' Forum and Marshals' Dinner will also be held at Chateau Impney Hotel on the Saturday. The Marshals' Forum will take place in the afternoon and is open to all who marshal or compete at VSCC events.
As is tradition, the Marshals' Dinner is BY INVITATION ONLY and will take place in the evening, with invitations now sent to all invitees.
Accommodation
There is limited availability at Chateau Impney Hotel, which offers a number of accommodation options in the main Chateau and the neighbouring Courtyard, available at the following rates:
Courtyard Double/Twin £74.00
Chateau Double: £93.00
Chateau Executive: £119.00 supplement; Feature Room £184.00
Impney Apartments £114.00 (2 Adults), £134.00 (2 Adults, 2 Children)
Rates are per room per night inclusive of breakfast and VAT, for double occupancy (single occupancy is less £10.00). To book please call direct on 01905 77 44 11, email
rm@chateau-impney.com
or visit
www.chateau-impney.com
, and be sure to mention 'VSCC'.
For those not aware of Chateau Impney's motoring association, it was a Sprint venue in the late 1950s and has been used as a service point on many notable Rallies in history. It has recently been purchased by the Spollon family, a name synonymous in the VSCC. The weekend is a very special opportunity to visit the historic and newly re-opened landmark, in advance of a return of motorsport to the venue with the highly anticipated Chateau Impney Hill Climb on 11/12 July; visit
www.chateauimpneyhillclimb.com
for more information.
With its close proximity to the motorway network (Chateau Impney is minutes from the M5 and M42, south of Birmingham) the venue will be popular with Club Members so we hope you will give your full support to the weekend.
A Reminder to Previous Trophy Winners
All Annual and event Trophies are now due to be returned to the Club Office. We kindly ask all current holders of the Club's annual and individual event trophies to arrange to return these to us now so they can be engraved and prepared for presentation at the Club's forthcoming Awards Night.
You can now find full details of the Club's trophies online. Click
here
to visit our Trophies pages where you will find photos and descriptions of all Club trophies.