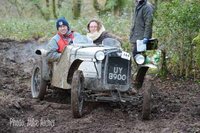 Friday 13 February 2015
VSCC head for the South-West for the first VSCC Trial of 2015
The ever-popular VSCC Trials Season is upon us and begins with a romantic Valentine's Day out at the Exmoor Fringe Trial tomorrow, Saturday 14 February, where we look forward to welcoming almost 100 Pre-war cars to take part.
What better way to start our 2015 Trials than with the Club's annual February visit to the South-West? Long-time helmsman of the Exmoor 'Fringe' Trial, Graham White once again takes the reins for the VSCC's traditional season curtain-raiser and will no doubt be offering an exciting day's competition, based again at the cosy surroundings of The Anchor Inn in Exebridge.
Such celebrated Pre-war marques as Austin, Bentley, Ford, GN, Lea-Francis, MG, Morris, Riley, Vauxhall and more are entered, with crews scheduled to tackle 14 challenging sections throughout the day before a return to the Event HQ to share their experiences with their fellow 'mud-pluggers' and for the announcement of the all-important Results.
Expect to see the Club's reigning 2014 Trials Champions lay down a marker for the season ahead, with Routen Chaplin Trophy winner, Matt Johnston, taking on a competitive Short Wheelbase Class in his Austin 7 and Paul Jeavons, our Frost Trophy holder, looking to start the year off as he did the last with a Long Wheelbase Class victory in his Vauxhall 30-98.
IMPORTANT NOTICE
All sections are now on private land, with difficult access and very limited parking space so please note that there are
STRICTLY NO SPECTATORS THIS YEAR
!
And don't forget...
Entries are now open for all our Trials for the first half of the year so get your entries in now to ensure you're in the mix – they're sure to fill fast!
Members can now enter online or download an Entry Form to complete and return at the relevant Event Pages – follow the links below:
John Harris (Derbyshire) Trial, Ashover, Derbyshire – 7 March (CLICK HERE)
Herefordshire Trial, How Caple Court, Herefordshire – 14/15 March (CLICK HERE)
Scottish Trial, Biggar, Lanarkshire – 11 April (CLICK HERE)