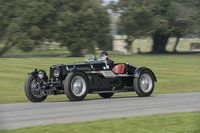 Wednesday 18 March 2015
FAMED EX-WORKS ASTON MARTIN ULSTER 'LM19' ANNOUNCED AS STAR OF BONHAMS FESTIVAL OF SPEED SALE
Ex-Works Racing Aston Martin Ulster Team Car, LM19, estimated at £1,600,000-2,200,000, is an early consignment for Bonhams Festival of Speed Sale at Goodwood on 26 June.
The LM series of Pre-war Aston Martin Works Team Cars were individually numbered from LM1 to LM23. As the initials indicate, they were produced to challenge the world's best in the prestigious annual Le Mans 24-hour race.
The first team cars (LM1 and LM2) faced the challenge of Le Mans in 1928, and over the next seven years the LM series developed impressively. By 1935, with several Le Mans tries under their belts, this series of now much-coveted Aston Martin Works Team sports cars produced four very special LMs, commonly regarded as being some of the very best of all Pre-war sports cars. These were described by A.C. 'Bert' Bertelli, chief designer and co-owner of Aston Martin, as "the best cars I ever built".
Of these four cars, three – LM18, 19, and 20 – were built to compete in the prestigious and intensely gruelling Le Mans 24-hour 'Grand Prix d'Endurance' in France.
Aston Martin LM19 then had an eventful race. With Thomas Fothringham at the wheel it was running very strongly and disputing the class lead, but after an intense nine hours it sadly crashed, leaving its sister Works entry, LM20, to soldier on, finish third overall, and win for Aston Martin the coveted Biennial Cup.
LM19 was then re-built by the Works and taken to Ards public-road circuit in Northern Ireland, for that year's Tourist Trophy Race. With the extrovert gentleman driver Charlie Martin behind the wheel, LM19 proved fastest amongst the pack of Works Team cars, only for a faulty batch of pipework to cause loss of oil pressure – eventually sending Martin and the rest of the Works Team cars into the pits. This caused such significant delay that LM19 fell two laps short of the required minimum distance to qualify as a finisher.
In 1936 this Works Team Aston Martin was then sent to Italy to compete in the legendary Mille Miglia, the thousand-mile road race. Driven by Tom Clarke and Maurice Falkner, the car yet again performed well, demonstrating its design's characteristic pace and driveability by leading its class by an hour-and-a-half at the Rome control. However, after crossing the Apennines during the race's return leg, a valve burned out, causing the car to retire at Fano, another disappointing end to a terrific performance.
"What we have here is a Pre-war 'Works' racing car of excellent provenance, built to compete at the highest level of endurance racing," said James Knight, Bonhams Group Director of Motoring. "We have successfully sold two Ulsters in as many years, but neither of them was one of the famed LM Team Cars. Now LM19 offered here ticks many boxes for the serious collector: it's a true Works Team Car, it is to the ultimate specification, and it is a veteran of the three blue-riband sports car events of the day – the Le Mans 24-hour, the RAC TT and the Mille Miglia with the additional cherry on the cake being the 1936 French Grand Prix outing, driven by none other than the brilliant Dick Seaman.
"The car's exceptional provenance includes it having been cherished by the same family since 1969, and it is in the fine condition to match. If you want an Ulster with impeccable credentials, you need look no farther than LM19."
CLICK HERE
for further information on the Bonhams Festival of Speed Sale, taking place in Goodwood, Chichester on Friday 26 June.