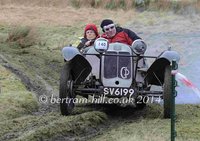 Friday 10 April 2015
The VSCC go 'north of the border' for the Scottish Trial this weekend
This weekend will mark the halfway stage of the 2015 VSCC Trials Season as Competitors head for the familiar surroundings of Lanarkshire for our annual Scottish Trial tomorrow, Saturday 11 April.
Based primarily again on the McCosh Estate at Culter Allers and the stunning landscape in and around the town of Biggar, the event is without doubt worth the effort for those who make the journey for one of only two competitive Scotland-based events this year, with its challenging sections and breath-taking scenery – we will host our inaugural Scottish AutoSolo in October.
Long-time Clerk of the Course, Jock Mackinnon and team have found a winning formula, combining challenge and entertainment whilst maintaining the welcoming relaxed atmosphere the Scottish Trial is famed for. Jock is again joined by Club marshalling stalwart, Martin Jelley, who continues as Chief Marshal and will no doubt bring a team of supporters with him from his Lancashire base.
The Trial is also a favourite for spectators, particularly amongst those more local who otherwise have to travel some distance to witness a VSCC event. They again will be most welcome to come and watch the action. Morning Hills will be open 9.15am-12.30pm with Afternoon Hills 2.00pm-4.30pm. Download a copy of the Spectator Information for full details, including locations of those Hills open to Spectators and a complete Entry List (
CLICK HERE
).
Victory at our Herefordshire Trial last month saw David Golightly make it 'two in a row' last time out, following his overall win at our John Harris (Derbyshire) Trial only a week previously; no doubt he will be desperate to make it a 'hat trick' in his Ford Model T Special in Scotland this weekend. Don Skelton, winner of the opening round the Exmoor Fringe Trial in February, has been hot on his heels in his Austin 7 all season, however, and will be determined to topple the Ford off top spot this time. With the option of shared cars on this event, there is a chance for husband and wife, Graham and Norma Carr to go head-to-head in their Austin 7 Saloon in the day's Standard Classes where Mark Smith has been enjoying his first full season with the MG J2.
The Long Wheelbase Class has thrown up a different winner in each event so far this season but with none of the previous winners taking part, there will be another new name on the silverware this weekend – perhaps Club Director, Tim Dutton, in his always competitive Ford Model A. Meanwhile, Brian Hopkins will be waving the Saltire proudly as he aims to defend his Sammy Davis Cup title as the best placed Scottish-domiciled Competitor.
We wish all those taking part, Competitors, Organisers and Marshals another wonderful VSCC weekend.