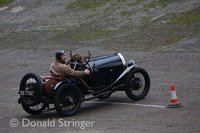 Tuesday 12 February 2013
New Year Driving Tests Final Results now Live
Final Results from the New Year Driving Tests, which took place at Brooklands Museum on Sunday 3 February, are now available to download.
Visit the event page
HERE
and click on the Results tab.
A bitingly cold Sunday morning was not enough to deter our sixty-plus entrants, a record number for recent years, who descended on the hallowed surroundings of Brooklands Museum for the Club's annual New Year Driving Tests on 3 February. Bar the few hardy souls who braved January's overnight Measham Rally, the event heralded the start of the competitive year for most, with Clerk of the Course, Kevin Lee's 14 well-designed tests a fitting introduction to 2013, each cleverly named after people or events with significant ties to the venue and/or date.
As always, Test Hill provided no lack of entertainment as our eclectic array of machines twice tackled its famous gradient at a variety of speeds, from the day's oldest in the form of Mike Mutters's 1912 Minerva Tourer, in a little under 2 minutes to David Pryke's 1935 Riley Special in a blisteringly swift 35 seconds. It was a hard-fought affair for Mike in the Edwardian Class, as the two entrants scored 7 fastest tests each; however, it was young Katy Sharpe who came out on top in her first ever competitive start, driving father Michael's 1912 Sunbeam Coupe de l'Auto. Neil Thorp put on a stellar performance in his beautiful Singer 9 Coupe, topping the Touring & Saloon Car Class. Driving Test stalwart Edmund Burgess displayed his prowess in the Standard Sports-Car Class, piloting his Bugatti Brescia to 559 penalty points, just enough to see him best Charlie Martin in his Riley Special, who led the Modified & Special Sports-Car Class with 566, and take the Tony Jones Trophy for the day's Best Performance.
Our thanks go to Kevin Lee, Mike Dawes and the rest of the local organising team as well as the band of marshal volunteers for a fantastic day of Pre-war motor sport, well-befitting the birthplace of British Motor Sport & Aviation. And as ever, a final thank you to the team at Brooklands Museum for making the Club so welcome as always.