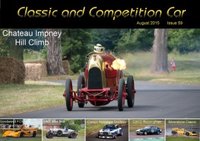 Friday 14 August 2015
Classic and Competition Car – August 2015
The August Issue of Classic and Competition Car is now available to download.
This issue is full of July special events. The Goodwood Festival of Speed, the Silverstone Classic, Classic Nostalgia at Shelsley Walsh and now a new event to add to the list of great historical motorsport attractions – the Chateau Impney Hill Climb. We have a full report on this new event at a former motorsport venue in the Midlands.
Another new event is Flywheel at Bicester Heritage, which combines Historic motorsport with aircraft. If you prefer rallying action we have the Nicky Grist Stages and for Historic motorsport followers we have the Trans America Challenge and the 1000 mile Trial around the UK.
Circuit action is covered with the Masters Festival at Donington Park, the Classic Sports Car Club Race Meeting from Rockingham and a round of the British Hill Climb Championship from Harewood in Yorkshire.
Finally for the Classic Car fan we have a report from 'Stars and Strips', the American Car Show at Tattoo Park in Cheshire and the 1940s Weekend at the Severn Valley Railway in Worcestershire, plus all our usual news and features.
We don't have a separate multimedia edition this month, our multimedia clips are now on our YouTube channel with links from the normal magazine, so everyone can enjoy the video clips from a tablet or computer, when connected to the Internet.
Visit
www.classicandcompetitioncar.com