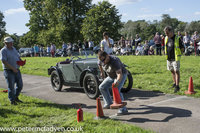 Thursday 20 August 2015
68th Year of the VSCC Madresfield Driving Tests & Concours This Weekend
One of the Club's oldest and most iconic events, the Madresfield Driving Tests & Concours, first held on the mile-long drive of Madresfield Court back in 1947, takes place this Sunday 23 August.
With its most wonderfully relaxed atmosphere and idyllic setting against the backdrop of the Malvern Hills, Madresfield is simply one of the most popular events in the Club's calendar, regularly hailed as the VSCC at its very social best.
As is the long-standing tradition, the day's Competitors will enjoy a variety of light-hearted Driving Tests and the traditional 'self-judging' Concours toward the formal competition, whilst spectating Club Members are encouraged to attend in their Pre-war cars, whereby they may enter their own Concours competition; named in memory of Club Marshal and long-time organiser of this particular event, the Bob Watt Cup will be presented to the winning owner, whose car simply gives our panel of Judges the most pleasure to see parked up at Madresfield – thus any car could win!
Having triumphed for the last four consecutive years, expect to see Robert Gibson vie for victory again in his Austin 7 whilst Jo Blakeney-Edwards is a strong bet for the Best Performance by a Lady Driver as she makes her Madresfield debut in search of all-important Annual Aggregate Trophy points in her Frazer Nash Super Sports.
But for many, the day is simply about the wonderful social element Madresfield offers – bring your picnics, catch up with friends and fellow VSCC enthusiasts and enjoys one of the most delightful days of the year.
The Club extends its sincere thanks to the organising team, led by Tom Pellow and Hugh Girvan, and to all the voluntary officials and marshals who give their time to help in the running of this event, to our cartoonist James Peacop and to the Trustees of the Madresfield Estate for allowing us to use this venue.
Thanks are also extended to St John Ambulance for being in attendance and to the members of Ledbury Rotarians for providing refreshments.
Admission & Timetable
Admission for Spectators is free although we do ask that you buy one Event Programme per car on arrival; Morning Tests commence at 11.00am.
Directions
The entrance to Madresfield Court is east of Malvern on the B4424 between Upton-on-Severn and Worcester.
Click here to view the map