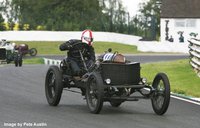 Friday 21 August 2015
Battle of the 'Centenarians' the highlight of the VSCC Bob Gerard Memorial Trophy Meeting at Mallory Park
The Vintage Sports-Car Club's annual Dick Baddiley & Edwardian Racing Trophies Handicap Race for Edwardian Cars is set to be the highlight of a stellar day of Historic motorsport at Mallory Park tomorrow, Saturday 22 August.
The unique event – the only one of its kind in the world – has attracted a capacity grid of international Pre-1918 machinery, with almost all taking part over 100 years old. Although the day's oldest competing car, Mark Walker's 1905 Land Speed Record Holder Darracq 200HP will be the undoubted pace-setter as he is joined by a host of other historic machines, such as David Ozanne's 1911 'Coupe de l'Auto' winning Delage.

In addition to the track action, we are delighted to receive the support of Club Principal Associates, Bonhams, who will host an impressive period display in the Paddock, with all the competing cars on show alongside other fine examples from this pioneering era of motor racing.

Elsewhere in the 12-Race programme, we welcome two ex-Bob Gerard cars as we honour the local Racing hero at his spiritual home of Mallory Park, a circuit he opened in April 1956; the ERA R4A of Nick Topliss and Steve Russell's Cooper Bristol will headline the day's title feature for Pre-1961 Racing Cars.

Often the highlight at VSCC Race Meetings at Mallory, there is another eclectic line-up of Morgan Three Wheelers, 'Chain-Gangers', Grand Prix Bugattis, Brooklands Racers and aero-engined Specials to contest our Pre-1931 Vintage Race whilst our Standard & Modified Pre-war Sports-Cars yet again confirm their enviable reputation with another capacity grid.

In addition to the Club's traditional 'Sets', the Burghley Trophy for Austin 7s will also form part of one of the day's Short Handicap features, whilst to complement the array of VSCC events, we also host the prestigious John Taylor Memorial Trophy for Front Engined Formula Junior Cars, and also races for F3 (500) Racing Cars and the Triple-M Register and their Pre-war MG machinery.

With its amphitheatre-esque setting, Mallory Park offers some of the best Spectator viewing in the UK, with many elevated areas from which you can enjoy the action outdoors or from the comfort of your own vehicle. Once again, those arriving in Pre-war cars are encouraged to gather in the dedicated parking area above the 'Devil's Elbow' parallel to the Start/Finish straight whilst you can also follow the access roads around the edge of the circuit and park up right down to the famous 'Gerard's Bend'.

As at all VSCC events, entry to the Competitor Paddock is free but it can only be accessed on foot via the Bridge over the Start/Finish straight; here you can get up close to the competing machinery and speak to the drivers, and also explore the Trade Stands and Autojumble.

The programme for this year's event will be as follows:

The Mallory Park Trophy Race for Special Pre-war Sports-Cars (VSCC Set 4) – BEFORE LUNCH BREAK
The Bob Gerard Memorial Trophy Race for Pre-1961 Racing Cars (VSCC Set 2)
All-Comers Pre-war Short Handicap Race 1 (VSCC Set 6)
The Dick Baddiley and Edwardian Racing Trophies Handicap Race for Edwardian Cars
Formula 3 Race for 500cc Racing Cars
The Mallory Mug Race for Standard & Modified Pre-war Sports-Cars (VSCC Set 3)
Race for Vintage Racing Cars (VSCC Set 1)
All-Comers Pre-war Short Scratch Race 1 (VSCC Set 5)
The John Taylor Memorial Trophy Race for Front Engined Formula Juniors
All-Comers Pre-war Short Handicap Race 2 incorporating the Burghley Trophy for Austin 7s (VSCC Set 6)
Triple M Register Race for Pre-war MGs
All-Comers Pre-war Short Scratch Race 2 (VSCC Set 5)

SPECTATORS

Timetable
Track action gets underway with Practice Sessions from 9.30am with the first race scheduled to start at 11.45am. This will be followed by Lunch Break, with Racing continuing from 1.00pm (all timings approx and subject to change).

Advance Ticket Sales are now closed. Tickets will be available on the day:

On the Day Ticket Price: £12.00

Children Under 16 go free.

REFUNDS:
The Vintage Sports-Car Club cannot accept responsibility for undelivered tickets, or those that are not received in time for the event. All tickets are posted via Royal Mail, first class.

No duplicate tickets can be issued or refunds made in respect of any lost, forgotten, unused or surplus admission tickets.

Directions
Mallory Park Circuit, Church Road, Kirkby Mallory, Leicestershire, LE9 7QE (Tel: 01455 502214).

By Car: From the M1 junction 21 and M69 junction 3, follow the B4114 towards Narborough. At the first island turn right onto the B582 signposted Enderby and follow this road to the junction with the A47. Turn left at the traffic lights and follow the brown tourist information signs to reach the circuit.

By Rail: The closest train station to Mallory Park is Hinckley, located just 5 miles away from the circuit.