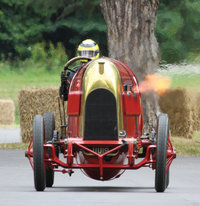 Thursday 12 November 2015
'The Beast of Turin' set to be star of the VSCC Stand at the Lancaster Insurance Classic Motor Show
The VSCC will once again be displaying this weekend at the Lancaster Insurance Classic Motor Show, the UK's Biggest & Best Classic Motor Show, from 13 - 15 November at The NEC, Birmingham, where the celebrated Fiat S76 is set to be our star attraction.
Built specifically to attempt the World Land Speed Record in 1911, the fire-breathing 'Beast of Turin' made a highly anticipated reappearance this year after a meticulous 10-year long restoration by Club Member, Duncan Pittaway.
He set about reconstructing as original a car as he could from what is believed to be an original engine – at 28.4 litres (and only 4 cylinders) the largest car engine ever built – and chassis from the two original cars that existed, using copies of the original FIAT plans, with specialists helping with the new bodywork and gearbox (
click here
to see it being started for the first time in 100 years).
Following failed record attempts at Brooklands and then Saltburn Sands – having been driven to Yorkshire from Surrey on public roads – the car finally achieved a record top speed of 132.27mph at Ostende in 1913, although failed on its return run to make this official.
We anticipate plenty of interest so be sure to come along to Hall 1 (Premium Hall) and see the Vintage Sports-Car Club on Stand
1-540
, where the team look forward to welcoming you.
In addition to the Fiat, we will have a wonderful array of other
Vintage
machinery on display, representing just some of the Club's many other activities, including:
1913 FIAT S76 'Beast of Turin'
1927 Delage DIS Tourer
1911 Talbot Model M Saloon
1928 Hotchkiss Saloon
1928 La Fitte Type D
1930 Austin 7 Ulster Trials Car
Club Directors and Member volunteers will be on hand throughout the weekend to provide information about the Club, Membership, our Vintage Cars and the general activities of the VSCC.
A selection of our Regalia range will also be available to purchase including this year's Club Christmas Card and our new History Book,
"A Portrait of the Vintage Sports-Car Club, 1934-2014"
by Tom Pellow, the ideal Christmas Gift for any Pre-war enthusiast (or buy your copy now from our online shop –
CLICK HERE
).
Once again, there is an exclusive Advance Ticket Offer for Club Members giving £5 off the Saturday/Sunday door price. See the exclusive Club Show Advert in the Newsletter for details and discount codes or view this online on the Forum (
CLICK HERE
)
For more information or to book tickets for this year's event, visit
www.necclassicmotorshow.com
or call 0871 230 1088.