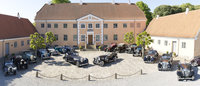 Monday 28 September 2015
BONHAMS DENMARK SALE ACHIEVES MULTIPLE AUCTION RECORDS AS FREDERIKSEN COLLECTION SOARS
Bonhams first auction in Denmark was the country's highest grossing auction ever, with 92% sold at the Frederiksen Collection Sale on Saturday 26 September.
The auction included the 1930 Duesenberg Model J Disappearing Top Roadster, sold for DKK 17,825,000 (£1,764,675), now the most valuable car ever sold at auction in Denmark
Eleven rare Rolls-Royce motor cars sold, totalling over £3.5 million, led by a 1914 Rolls-Royce 40/50 Silver Ghost Skiff, at DKK 7,475,000 (£740,025)
A 1939 Lagonda LG6 Rapide achieves new world-auction record at DKK 5,462,500 (£540,000). Further excellent prices include cover lot, the 1914 Mercedes 28/95 Phaeton, sold to a German telephone bidder for DKK 9,372,500 (£927,877)
The hotly anticipated single-owner Frederiksen Collection is the highest grossing auction Denmark has ever seen. Over 90% of lots sold in front of a packed saleroom, with an excellent price achieved for the 1930 Duesenberg Model J Disappearing Top Roadster, which was sold to a US telephone bidder for DKK 17,825,000 (£1,764,675).
Hundreds of bidders and avid enthusiasts filled the grounds of Mr. Henrik Frederiksen's 16
th
Century manor house,
Lyngsbækgaard
, as 48 of his highly-prized motor cars went under the hammer, in a convivial 'garden party' atmosphere.
With Bonhams Co-Chairman Malcolm Barber conducting the Sale from the rostrum, bids were received from collectors across the globe as they vied to take home one of the incredible cars offered in this highly sought after collection.
Collectors flew to Denmark from across the world, with US bidders particularly high in attendance. International and national representation in the saleroom competed against bids from online and the ever busy telephone bidding desk.
The collection boasted an incredible selection of Rolls-Royce motor cars, of which 11 sold to achieve over £3.5 million. Highlight of the selection was the 1914 Rolls-Royce 40/50 Silver Ghost Skiff at DKK 7,475,000 (£740,025), followed by the 1910 Rolls-Royce 40/50 Silver Ghost 'Balloon Car', that realised DKK 4,312,500 (£426,937), and the ex-Hedy Lemarr 1937 Rolls-Royce Phantom III Drophead Coupe eventually selling for DKK 4,140,000 (£409,860), to a Danish bidder in the room.
One of the most hotly contested motor cars was the stunning 1939 Lagonda LG6 Rapide that smashed its pre-sale estimate of DKK 3,400,000–4,200,000 to realise DKK 5,462,500.
Assembled over several decades by Danish gentleman Mr. Henrik Frederiksen, the collection was one of Europe's finest, featuring models from the pantheon of greats – including Alvis, Bentley, Cadillac, Duesenberg, Hispano-Suiza, Horch, Isotta Fraschini, Jaguar, Lagonda, Maybach, Mercedes-Benz, Packard, Rolls-Royce and Stutz.
"There was an excellent atmosphere in the room, with everyone enjoying the day," said Malcolm Barber, who conducted the Sale. "Auctions are a serious business, but they're also excellent fun, and I think the people that came along to the sale very much enjoyed seeing these phenomenal cars, and watching the prices soar."
Jakob Greisen, head of Bonhams US Motoring Department who handled this Sale, said: "Henrik's collection is truly incredible, certainly one of the best in Europe. We're delighted that so many turned out for the day, enjoying the sunshine, enjoying the cars, and witnessing a world record breaking Bonhams auction. We're delighted to have achieved such an excellent result for Mr. Frederiksen, realising a total of over DKK 162 million (£16 million/ $24 million)."
Henrik Frederiksen said: "I'm absolutely delighted, Bonhams has done an incredible job. I now have to say goodbye to my wonderful cars, but I couldn't be happier as I know each will bring joy to their new owner. It's quite astounding how many people turned out for the day, plus so many people bidding from across the world."
James Knight, Bonhams Group Motoring Director, said: "Bonhams has a proud history of handling single-owner sales, and this was one of the most enjoyable and successful.
"The European Motoring department will look back on September with a certain amount of pride and satisfaction. With four auctions conducted in three countries in four weeks, the team has been particularly busy. More than £38 million-worth of motor cars have been sold and we now look forward to the final quarter to cap a tremendous 2015."
For further information, visit:
Bonhams.com/frederiksen