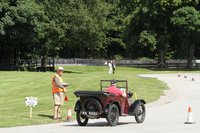 Monday 05 October 2015
Entries Closing Soon for the VSCC Scottish AutoSolo
Entries close soon for our inaugural Scottish AutoSolo, taking place at East Fortune Race Track, Haddington, East Lothian, EH39 5JZ as part of a 'Club Day' in Scotland on Saturday 17 October.
AutoSolo Driving Tests were devised by the MSA to exclude any use of reverse gear so cars of all sizes and lengths are eligible, be they open or saloons, and are suitable to drivers of all ages and skeletal flexibility!
The Scottish AutoSolo will take place on the afternoon of Saturday 17 October by courtesy of the Melville Motor Club of Scotland. The event is open to all road-going cars that are eligible for Driving Membership of the VSCC. The Driving Tests will be devised by Martin Jelley and his team, and will follow the same format as at previous Club events at the 80
th
Anniversary in Peterborough in 2014 and VSCC Oulton Park earlier this year.
Courtesy to the local neighbours is very important, particularly over engine noise, and the Organisers reserve the right to decline entry if it is deemed that excessive noise will damage the good relationship between the Melville Motor Club and the residents in the nearby village.
Entry Fee:
£50.00 (to include 2 tickets for the showing of
'A Sicilian Dream'
and free entry to both the Museum of Flight and the Myreton Motor Museum – see below)
Closing Date:
Thursday 15 October
(extended)
Download Supplementary Regulations and an Entry Form from the Event Page (
CLICK HERE
), the latter to complete and return to the VSCC (post/fax/email accepted). Club Members with a payment card registered with the Office and who know the Eligibility Buff Form number of the car they intend to enter can also use our online entry facility.
If you have any questions about the AutoSolo, please contact the Competition Department on 01608 644777 (ext 4) or email
andy.halstead@vscc.co.uk
or Martin Jelley on
m.jelley145@btinternet.com
.
The Driving Tests will form a central part of a 'Club Day' in Scotland, which includes visits to the adjacent National Museum of Flight and the Myreton Motor Museum, for which Driving Test entrants will have free entry and there will be reduced entry fees to these two attractions for other Club Members too.
A showing of
'Pistons, Passions, Pistons – A Sicilian Dream'
, David Biggins' theatrical documentary film about the Targa Florio Races and Vincenzo Florio – the philanthropist dreamer who started it all, will take place in the early evening (
www.siciliandreammovie.com
), followed by the Annual Scottish Dinner at the award-winning 'Rocks Hotel & Restaurant' in historic Dunbar, which overlooks the remains of Dunbar Castle, where Mary Queen of Scots was held captive in 1567.
The Dinner will be 7.00pm for 7.30pm with David Biggins as Guest Speaker, and will include a 3-course dinner with tea or coffee, plus vegetarian options, at £35.00 per head, with a cash bar available before and during the meal (Dress Code: smart). Limited B&B accommodation is available at 'The Rocks', call 01368 862 287 whilst there is also plenty of B&B accommodation options elsewhere in Dunbar.
For further information about the 'Club Day', contact Alisdaire Lockhart at
alex3098@btinternet.com
.