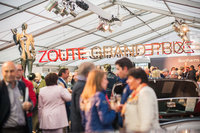 Thursday 08 October 2015
BONHAMS BIGGEST ZOUTE SALE BOASTS PLETHORA OF RARE AND MODERN SPORTS
Bonhams Zoute Grand Prix Sale will boast a plethora of stylish, modern sports cars from the luxury stables of Ferrari, Jaguar and Porsche, with the annual event taking place tomorrow, Friday 9 October at the Belgian seaside resort of Knokke-Le-Zoute.
Of the ten Ferraris featured, the Ferrari 599 SA Aperta leads. Offered at an estimate of €800,000-1,200,000, it is one of the most exclusive of modern Ferraris, with only 80 examples ever built. Boasting a V12 engine, the phenomenally fast Aperta was introduced at the Paris Motor Show in 2010. Built in homage to Ferraris long-term partner, Pininfarina, the stunning Aperta not only looked good, but also boasted the latest in technology.
Elsewhere, a BMW M1 Coupé is offered at an estimate of €450,000-650,000. The BMW M1 Coupé was proposed as a mid-engined concept car, aiming to take on rivals Porsche in the World Sportscar Championship and, ultimately, lead BMW to victory at Le Mans. When the road-going version launched at the Paris Motor Show in 1978, it came with 277bhp and a top speed of 160mph, making it Germany's fastest production sports car.
The sale includes all-time classic American great, the Ford GT Coupé, estimated at €300,000-400,000. This left-hand drive GT is one of 101 examples specially built by Ford for the European market. Its first owner, a Frenchman residing in Belgium, ordered the car new, and had to pass the manufacturer's lengthy vetting procedure before being selected as a worthy customer.
Philip Kantor, Bonhams European Head of Motor cars, said: "The cars available are the stylish supercars that adorn bedroom walls and computer screens the world over. The Zoute Grand Prix grows from year-to-year in both quality and size, and Bonhams auction will offers bidders a fantastic selection of visually striking, mechanically advanced motor cars."
Further highlights include a 1989 Lamborghini Countach 25
th
Anniversary Coupé, estimated at €330,000-400,000; a 1992 Jaguar XJ220 Coupé, estimated at €280,000-420,000, and a 1974 Porsche 911 2.7-Litre MFI Carrera Coupé, estimated at €170,000-220,000.
For further information on Bonhams motoring department, visit:
https://www.bonhams.com/departments/MOT-CAR/