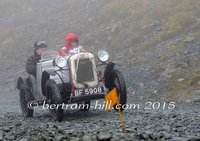 Tuesday 10 November 2015
Lakeland Trial Provisional Results and Photo Gallery Now Live
Members can now download the Provisional Results from our Lakeland Trial, which took place this past weekend, once again based at the Wheatsheaf Inn in Low Lorton.
Torrential rain for much of the day was not enough to deter our intrepid Triallists, who reported to the start venue at the Whinlatter Visitor Centre in good spirits despite the inevitably wet and muddy challenges ahead. With new restrictions from both Forestry Commission and MSA, there was a strict order in which the day's sections had to be completed, a successful process which ensured an efficient and enjoyable event for all in the face of some challenging conditions – indeed, only two hills were forced to close due to access issues causing unmanageable delays.
The tricky sections and increasing volume of water/mud was proving a handful for Competitors with even the most experienced of crews being caught out. Indeed, it was the Austin 7 Ulster of Peter Kite which coped most admirable to take a well-deserved victory – his first overall win – only a point ahead of another Austin of Tim Matthews, followed by the GN Anzani of Duncan Pittaway. Will Odell's admirable score of 234 was enough to take the Standard Short Wheelbase Class, whilst Paul Jeavons found himself atop the Long Wheelbase Class standings in his Vauxhall 30-98 and Dennis Bingham a familiar winner amongst the Standard cars.
Our congratulations go to Alan Couper, John Gill and their entire organising team, whose considerable efforts over the past weeks and months, in the face of much restriction and regulation from various authorities, ensured another safe and enjoyable Trial. We also extend our thanks to all those Club Members who took part and, most of all, to all the Marshals and other volunteers who braved the challenging conditions to manage the day's competition with their usual good humour and enthusiasm.
To visit the Lakeland Trial Event Page (
CLICK HERE
), where you can also view photos from the day in the gallery at the bottom of the page.