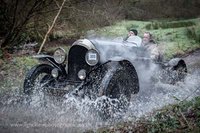 Thursday 07 March 2013
Annual Trials Trophies 2013 : Start of Season - The Exmoor Trial
The new Trials season is underway and Peter Livesey reports on the Exmoor Trial on 16 February and updates us on the first points scored in the 2013 Trials Trophies sponsored by Routen Chaplin and FROSTS.
Unlike last year when the trial started in fine conditions and degenerated into a ferociously wet day, this time the day started off well and continued to improve, at times with warm sunshine. This was fortunate as earlier in the week, heavy rain had been the norm.
Organiser Graham White had his work cut out in even putting on an event as his carefully prepared plans were dashed by a decision of the area Forestry Commission office in Gloucester to cancel permission to use their sections because of infected spruce trees in the region. This blow came only days before the trial but Graham was able to enlist the help of Hugh Harrison, a local farmer, who enthusiastically agreed to allow use of his forest land at Ringcombe. Track preparation and earth moving were necessary but on the day, fully five sections were ready to go, together with a warming soup kitchen that was much appreciated. Further sections at Howe Wood came from another local landowner, Thomas Everard.
With the land draining efficiently, even steep sections of the hills were passable and there were just three main tie-breakers, New Beechwood, New Broford and Ringcombe 4. New Beechwood was a short section with a slippery start that rapidly steepened after 30 yards or so. It was closely marked and most scores were around 10-12 with the highest 15 in Class 1, though significantly less in Class 2. New Broford was a re-engineered and lengthened version of the old section, very steep with leaf mould on the lower parts and higher up the steep ruts cut out by a stream levelled over. Expert triallists in the lighter cars with plenty of power were able to pick a course through the ruts and there were a few clears during the day, all Austin 7s but for Lou Bunting in the GN Touring. Long chassis cars were out of the running on this territory and Paul Jeavons (Vauxhall 30/98) was one of only two to reach double figures.
Ringcombe 4 was a deceptive climb starting on a stone track with good grip but turning immediately through almost 90 degrees to a soft muddy climb followed by deep leaf mould at mid-score and on to a final run up a steady grass-covered track. A very tricky section, and changing in nature during the day. Scores in class 1 ranged from 3 to 25, and Class 2 from 2 to 12, some experienced drivers being caught out by the sharp turn at the start, oversteering and either taking out markers or rapidly losing momentum. Eventual winner Donald Skelton was amongst this group, almost coming to a halt low down but recovering very impressively as his substantial weight, positioned perfectly over the drive wheels, gave grip that caused the Austin 7 to scuttle up like a frightened rabbit. This must have been a confidence booster as he'd already had a bad start at Miltons when an electrical misfire stopped him in mid-section and he thought his medal chances were over. Terry Gosling powered his Austin Ulster up to clear, as did Stephen Jones and Clive Press in their similar marques, whilst David Golightly (Ford Model A), first on the section, carefully adjusted his tickover at the start and hardly put his foot on the fast pedal throughout a successful climb. Having walked the section, Michael Grant Peterkin lined up to start short of confidence but then climbed like a champion, eventually finishing the event with a well-deserved 2
nd
Class award. Oliver Maitland came late in his somewhat heavy Austin Cambridge and found the conditions to his liking, breezing up to a 25 score. Charlotte Holden (Austin 7) did all the hard work then failed at 17, running out of grip on the grass.
In Class 2, Paul Jeavons made an impressive climb after a fierce start and was dismayed then to find marker 2 was in disarray. After much tactical discussion with his bouncer and manoeuvrings at the start, Roger Collings (Mercedes 60hp) also took out the same marker with a flourish. In class 1, Phillip Tillyard had done the same thing but lost a tyre in the process. Kelvin New in the standard Ford A Tudor Sedan made top marks with a very stately climb to 13.
This year the annual trials events are again supported by VSCC sponsors. Frost Auto Restoration Techniques continue after many years to provide a trophy for long chassis cars and Routen Chaplin now have the named trophy for the short chassis classes.
In this year's contest, at the end of the first of the season's trials, Don Skelton holds a narrow lead over Terry Gosling and David Golightly for the Routen Chaplin Trophy, just ahead of Louise Bunting, Richard Houlgate and Stephen Jones. Old stalwarts David Dye and Jonathan Mellor (Austins) were not quite on top of their game in Devon and will be looking to improve scores in the Derbyshire trial.
As happened last year, Paul Jeavons leads the Frost Trophy rankings following the Exmoor, some way ahead of Jonathan Miller (Chrysler) and Roger Clithreoe (in Graham White's Lea-Francis 12/40). Following on, Michael Power must have revelled in the performance of his Vauxhall 23-60 as he equalled John Chilman's Chrysler 65, just ahead of John Higgs, who has taken over Stuart Cooke's very successful Morris Cowley, though he suffered battery problems throughout the event. The standard Ford Model As of Roger Newton and Dennis Bingham were only a point apart and feature in the top ten of the Frost leaders; such success comes from loyal and enthusiastic crews that by now must have developed physiologic rhythms closely tuned to Ford suspension characteristics.
Standard cars represent a large part of the long chassis field and can be surprisingly effective in Trials events – twelve cars entered. The situation amongst short chassis standard cars is quite contrary – only five cars were listed and top players stayed away. The winner, Charles Gillett, in his Brescia Bugatti (surprisingly the only Brescia competing), was no less than 114 marks ahead of second man Graham Carr in Norma Carr's Austin Saloon, a score good enough to earn a 3
rd
class award in the open class.
TRIALS TROPHIES 2013 –Scores to Date
The Routen Chaplin Trophy


The Frost Trophy


1
Donald Skelton
277
1
Paul Jeavons
249
2=
Terry Gosling
274
2
Jonathan Miller
232
2=
David Golightly
274
3
Roger Clitheroe
231
4
Louise Bunting
273
4=
Michael Power
222
5
Richard Houlgate
271
4=
John Chilman
222
6
Stephen Jones
270
6
John Higgs
221
7=
Michael Grant Peterkin
268
7
Simon Bowyer
211
7=
Simon Price
268
8
David Knight
207
9
Jane Tomlinson
263
9
Roy Newton
198
10
David Dye
262
10
Dennis Bingham
197
11
Stephen Fathers
261
11=
Robert Frankcom
191
12
Charles Gillett
260
11=
Rachel Kirkby
191
13=
Tim Matthews
259
13
Roger Collings
189
13=
Stewart Rich
259
14
Andrew Staples
184
13=
Jonathan Mellor
259
Includes only Exmoor Trial scores
For comparison, here are the leading scores for cars in the short and long chassis Standard classes, 1a and 2a.
TRIALS SCORES 2012 – Standard Classes
Class 1a
Class 2a
1
Charles Gillett
260
1
Roy Newton
198
2
Graham Carr
146
2
Dennis Bingham
197
3
Simon Frost
127
3
Robert Frankcom
191
4
Justin Maeers
90
4
Andrew Staples
184
5
Alan Mills
90
5=
Wavell Urry
183
6
-
-
5=
Luke Roberts
183
7
-
-
7
David Wylie
177