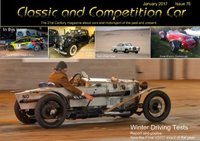 Thursday 05 January 2017
Classic and Competition Car – January 2017
The January Issue of Classic & Competition Car is now available to download, including coverage of the VSCC Winter Driving Tests, which took place at Bicester Heritage last month.
As we reach the New Year we look back at the closing events of 2016. Most track action has finished in the UK, but we have two Rally reports, one of the Rockingham Stages in the UK for modern Rally cars, then we travel half a world away to the Rally of the Incas for Classic and Vintage cars that show age does not stop fun and action.
For those of you still with plenty of money after the Festive Season, we have a report from the H&H Auction held at Chateau Impney in December.
Finally on four wheels, we have a report and photos from the Christmas Brunch and Members Meeting held at the Curborough Sprint Course on Boxing Day. For fans of two wheels, we have a report from Motorcycle Live held at the NEC near Birmingham.
Plus all our usual news and features.
Visit
www.classicandcompetitioncar.com
You can also download the December Issue (CLICK HERE) which features a report from the VSCC Cotswold Trial, based at Prescott in November.
You can also now follow us on Twitter using
@classcompcar
or view our Facebook page
Classic and Competition Car
.