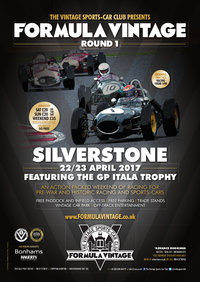 Tuesday 18 April 2017
Advance Spectator Ticket Sales for Silverstone Now Closed
Advance Spectator Ticket Sales for Formula Vintage at Silverstone are now closed - tickets will be available on the gate on both days.
Advance Ticket Sales are now closed.
CLICK HERE
for more information about the event, including a summary of the weekend's Race Programme, where you will find full Spectator details under the 'Spectators' tab including 'on the day' ticket prices.
This page includes Club Member information (including Members' Lounge and Free Programme details for VSCC Members), Parking, Camping, Grandstands and more about the wide array of off-track entertainment on offer.
The well-established 'Spring Start' season opener will be a fantastic two-day feature at the home of British motorsport, with the Club's celebrated Pre-war and Historic content taking centre stage across the weekend's programme.
In addition to the Club's own prestigious GP Itala Trophy Races for Vintage, Pre-1961 and Pre-war Sports-Cars and ever-popular Pre-war Scratch and Handicap formats, we also look forward to some of our other traditional events; these include a Race for 1950s Sports Racing Cars, the High Speed Trial for those new to Circuit Racing, as well as the celebrated Mike Stripe Team Relay Race for Pre-war Sports-Cars.
To complement the weekend's Vintage content, we also look forward to hosting races for other celebrated Historic race series over the weekend, including the Historic Grand Prix Cars Association (HGPCA), Fifties Sports Cars (FISCAR), Historic Racing Drivers Club (HRDC) Pre-1966 Jaguar Touring Cars, the 500 Owners Association and the Morgan Challenge Series.
Aside from the exciting action on track, this
Formula Vintage
event will again offer Spectators all that is great about attending a VSCC Race Meeting, with free access to the Paddock, where you can get up-close to the cars and drivers.
The weekend will also feature a mouth-watering display of cars from world-renowned Auction House and Club Principal Associates
Bonhams
, an
AutoSolo
in the Outer Paddock area during Saturday morning, onsite catering facilities, Car Club displays, a busy Trade Village and much more 'Vintage' entertainment for the whole family.
Formula Vintage
is the new name for Vintage Sports-Car Club's racing programme – CLICK HERE for more information.
CLICK HERE
to view the brand new
Formula Vintage
promo video at the VSCC YouTube channel whilst a new dedicated website (
www.formulavintage.co.uk
) and Facebook page (
www.facebook.com/FormulaVintage/
) are also now live.
Spectator Tickets and other information are now available for all of the Club's Race and Speed events in 2017.
Visit our Events page (CLICK HERE) for links to the relevant event pages and then select the 'Spectators' tab for more details.
Be sure to keep checking back as more information will be added to these pages as further details and attractions are announced.