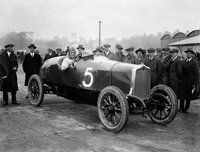 Wednesday 15 March 2017
CAR DRIVEN BY FASTEST MAN ON EARTH TO BE SOLD AT BONHAMS GOODWOOD SALE
Sir Malcolm Campbell – for many years the fastest man on earth - is best known for breaking nine land speed records, four water speed records and for being the first person to drive an automobile at over 300mph. He is also a previous owner of the 1913 Talbot 15HP Works Hill-Climber (£140,000 – 180,000) offered at the Bonhams Goodwood Members' Meeting Sale this coming Sunday 19 March.
His most famous car may be Bluebird, but this vehicle is significant in its own way. The sole survivor of the 'Invincible Talbot' Works Team, it was his winning car at Brooklands in 1922. It is presented in excellent condition with the original engine and chassis. Very few pre-First World War Works racing cars survive, and fewer still are offered on the open market, so this Talbot represents a unique opportunity.
Another outstanding offering is the
1903 Gladiator 10hp 2-cylinder rear-entrance tonneau
(£130,000 – 160,000). It is an excellent example from the short-lived French marque incidentally favoured by the 'Fastest Girl on Earth,' the successful racing driver and former holder of the Ladies' World Land Speed Record, Dorothy Levitt. The car has competed successfully on almost every London to Brighton Run for more than 25 years, with only one non-finish.
It is fitting that the
1961 Alvis TD21 Drophead Coupé
(£80,000 – 120,000) will be offered at the Goodwood sale, as its original owner is memorialized in a statue there. Group Captain Sir Douglas Bader, DSO, DFC was one of the RAF's most valiant flyers during the Second World War who continued taking to the skies despite losing both of his legs in a flying accident in 1931. The elegant car is the recent winner of several concours awards and is accompanied by extensive history files including correspondence addressed to Bader at his London home.
In keeping with the military theme, the
c.1944 NSU Kettenkrad (£60,000 – 80,000)
is widely recognized as one of the most ingenious military machines ever designed. Used in almost every theatre of war, the half-bike half-tank was used for carrying weapons, ferrying soldiers and even dragging planes up runways. Capable of up to 50mph, this example has been extensively restored and is in very good running condition.
Often referred to as 'The Holy Grail' of the Subaru world, the
Subaru Impreza 22B STi
is renowned for being as rare as it is powerful. With approximately only 400 units ever made, they are seriously hard to come by, but not quite as rare as the
1997 Limited Edition Prototype
(£65,000 – 70,000) for the legendary model which Bonhams will offer on 19 March. One of only 3 made, it has only 51 km on the odometer from new and represents a genuine once-in-a-lifetime opportunity for admirers of the Japanese marque.
For more information about other Pre-war cars for sale or for more details about the upcoming Goodwood Members' Meeting Sale
CLICK HERE.