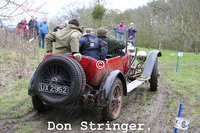 Tuesday 21 March 2017
Herefordshire Trial Provisional Results & Photo Gallery are now live
Members can now download Provisional Results from the Herefordshire Trial, which took place this past weekend based at How Caple Court near Ross-on-Wye on 18/19 March.
A wonderful, dry Spring weekend in the Wye Valley resulted in a high-scoring affair with no fewer than eight entrants achieving the maximum score of 395 across the two days' 15 Trial sections, all contesting the ultra-competitive Modified & Special Short Wheelbase Class; this included the Austin 7s of Stewart Rich, George Bradshaw, Richard Houlgate, James Price and Jon Fleming, the Singer Junior of Michael Henney, the debut GN Sports of Peter Kite and David Golightly's Ford Model T.
The traditional Timed Tie-Decider at Dean's Place – measured from the Stop/Restart point to the summit of the hill – was needed to separate them. Having set the second fastest time overall behind the Riley 9 of Georgina Monro, it was Golightly who claimed his second victory of 2017, receiving the Herefordshire Trophy and Moffatt Mug.
Dropping only 3 points over the weekend, perennial Long Wheelbase Class leader, Paul Jeavons notched up another victory in his Vauxhall 30-98 to take the Andrew Blakeney-Edwards Trophy, whilst there were Standard class wins too for David Rushton's MG M Type (Short Wheelbase) and the Ford Phaeton 35 A Tourer of Christopher Batty (Long Wheelbase).
The Club would like to thank Mark Garfitt and his team for yet another terrific event, as well as the event's other officials for their part over the weekend and also the many volunteer Marshals, who again gave up their time to oversee the competition.
To download Provisional Results, please visit the Herefordshire Trial Event Page (
CLICK HERE
, where a selection of photos from the event is also now available to view in the gallery.