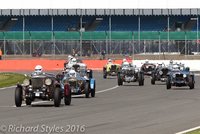 Thursday 23 March 2017
Special Offer for Pre-war Sports-Cars at Silverstone!
Calling all Pre-war Sports-Cars for the Club's ever-popular Mike Stripe Team Relay Race and traditional High Speed Trial, two of the featured VSCC events of the second day of our inaugural Formula Vintage Meeting at Silverstone, taking place next month on Sunday 23 April.
Both are a leading showcase for our Pre-war Sports-Cars – the undoubted stalwarts of the VSCC – and, as such, we are eager to see these events succeed.
To that end, we would like to extend a very 'Special Offer' to all owners/drivers of VSCC Pre-war Sports-Cars – all those who enter both the Team Relay Race and High Speed Trial events will receive a £200 credit on their VSCC Race Account towards future races with the Club.
We hope this incentive will encourage you to support these races and we look forward to seeing many of you at Silverstone next month!
High Speed Trial for Pre-war Sports-Cars
Entry Fee: £295 (30 Minutes)

A long-standing fixture in the programme ever since the VSCC's first Race Meeting at Silverstone in 1949, the High Speed Trial is a favourite for Circuit Racing novices, young Members and those looking for a start of season 'shake-down'. Not strictly a 'Race', drivers are against the clock to complete a set number of laps in 30 minutes dependent on car age and engine capacity, in addition to completing a mandatory 'pit-stop' in which they must 'change' a spark-plug. The event is the perfect introduction to racing without the full cut-and-thrust of head-to-head competition.

Mike Stripe Team Relay Race for Pre-war Sports-Cars
Entry Fee: £705 for team of 3 (90 Minutes)

The Team Relay Race for Pre-war Sports-Cars –re-named last year in memory of former Club Secretary, Mike Stripe – is an undoubted annual highlight of the Club's racing calendar, bringing with it the enjoyment and camaraderie that underlies the true spirit of a VSCC Paddock. The event pits teams of three car/driver combinations against each other over 90 minutes with both scratch and handicap awards up for grabs – the latter ensuring that even the less potent machinery will have something to play for. Team Captains will need to have their wits about them as pit-stops and tactics play a key role in proceedings, whilst each team is allocated a Judge to oversee they abide by the various race regulations. Friendly intermarque rivalry is assured with single make or regionally based teams encouraged but by no means mandatory. And if you are interested in taking part but are not affiliated with an existing team, don't dismay – contact the Competition Department and chances are we can match you to other individual entrants to form additional teams (such line-ups have performed admirably in past editions!)

Following the conclusion to the race, all Competitors, Marshals and guests will be invited to gather for the Team Race Awards Presentation at the VSCC Drivers' Club.
Entries close on
Monday 3 April
so don't delay and submit your entries now. Both events provide a real bargain – you will not find many opportunities for track-time at Silverstone for the price!
If you have already entered for Silverstone, please contact the Competition Department to add these races to your existing entry.
Alternatively you can download Supplementary Regulations and an Entry Form, the latter to complete and return to the VSCC (post/fax/email accepted), at the Event Page via the link below, where Club Members with a payment card registered with the Office and who know the Eligibility Buff Form number of the car they intend to enter can also use our online entry facility.
Don't forget entries are also now open for all other races over the weekend (
CLICK HERE
for more information), as well as Saturday's AutoSolo so, with camping available to everyone onsite, why not join us for what promises to be a fantastic weekend? Download Entry Forms or enter online for the other events from the Event pages on our website (follow links below):
Formula Vintage – Round 1 – Silverstone
Silverstone AutoSolo (Sat)
If you have any questions about our Silverstone event, please contact the Competition Department on 01608 644777 Ext 4, 5 or 6 or email
gemma.price@vscc.co.uk
.
Advance Spectator Tickets on Sale Now
Spectators can now buy their advance tickets for the Club's opening
Formula Vintage
round at Silverstone – don't miss your chance to save on the 'On the Day' prices and join us for what promises to be a spectacular start to the 2017 VSCC Race Season – CLICK HERE for more information.
Spectator Tickets and other information are now available for
all
of the Club's Race and Speed events in 2017.
Visit our Events calendar (CLICK HERE) for links to the relevant event pages and then select the 'Spectators' tab for more details.
Be sure to keep checking back as more information will be added to these pages as further details and attractions are announced.