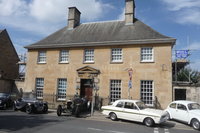 Thursday 13 April 2017
VSCC Office Closure - Easter 2017
The VSCC Office will be closed from 3.30pm today (Thursday 13 April) until 9.00am on Tuesday 18 April for the Easter Weekend.
With more than a quarter of the year already gone, we now look forward to the start of Club's Race and Speed Season, with the inaugural
Silverstone Formula Vintage
event next weekend, 22/23 April, soon followed by the first round of the 2017 Speed Championship with the
Curborough Speed Trials & Club Picnic
on Sunday 30 April.
The Club's first daytime navigation event of the year is also weeks away with our
Spring 'South Downs' Rally
on Saturday 29 April (entries closing this coming Tues 18 Apr).
So why not take some time this long weekend to plan the rest of your VSCC year?
Advance Spectator Ticket Sales and entries are now open for most events over the coming months, including upcoming
Wiscombe Park Hill Climb
and
Loton Park Hill Climb
, the
Brooklands Double Twelve Festival
(again incorporating VSCC Speed Trials, Driving Tests and Concours), as well as the remaining five rounds in the Club's
Formula Vintage Race Season
.
Visit the Events Calendar pages for full details of all upcoming events (
CLICK HERE
).
May we take this opportunity to wish all Club Members and Associates a very Happy Easter.