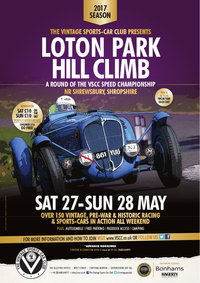 Tuesday 23 May 2017
VSCC Loton Park Hill Climb – Advance Ticket Sales Closed
Advance Ticket Sales for our upcoming Loton Park Hill Climb on 27/28 May are now closed. Tickets will be available on the gate on both days so don't miss out and join us for this fantastic weekend round of the Club's Speed Championship at one of the UK's best Hill Climb venues.
Set within the confines of the Loton Park Estate's picturesque deer park, the 1475 yards course is a great test for car and machine, and will follow our standard two-day Speed event format, with Competitors getting two Practice Runs on Saturday and two Timed Runs towards the competition on Sunday.
Again the Club's full Pre-war class structure is available, as well as additional Invited Post-war classes for Pre-1961 Racing cars (including F3 500) and 1950s Sports/Racing cars.
The highlight for many is Saturday evening's traditional Hog Roast organised by our loyal band of local members. With plenty of ale and on-site camping available, the event is truly one of the most social on the calendar, so come and join us for a wonderful weekend in Shropshire next month.
Loton Park is blessed with idyllic surroundings and fantastic vantage points all the way up the course. As the tarmac winds its way through the Deer park, there are benches alongside the upper half of the course from 'Triangle' corner upwards. Do wander up to the top and see the cars hurtling through 'Fallow' and 'Museum' – the walk is not too onerous and is a great opportunity to enjoy the beautiful setting.
Entries are now closed. Late entries may be available - contact the Competition Department now on 01608 644777 (ext 4, 5 or 6) or email rachael.watkins@vscc.co.uk for more information.
Advance Spectator Tickets are closed. Tickets will be available on the gate on both days at the following prices:
Saturday (All):
£10.00 (On the Day) 


Sunday (All):
£10.00 (On the Day)
Children under 16 free