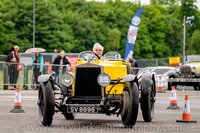 Friday 26 May 2017
VSCC AutoSolo and Concours events join Formula Vintage programme at Oulton Park - Late Entries Available
We call upon all non-Racing Club Members to bring their Pre-war Cars to our Formula Vintage Meeting at Oulton Park to take part in our AutoSolo and Concours features on Saturday 10 June.
Further enhancing our
Formula Vintage
programme at Oulton Park next month, we are again delighted to host these additional events as both another attraction to entertain Spectators and a fantastic opportunity for our non-Racing Club Members to take part in the day.
The Oulton Park AutoSolo will take place in the dedicated arena situated in the Outer Paddock during the morning, finishing in time to allow participants a free afternoon to watch the race action on the circuit.

Featuring simple, all-forwards Driving Tests, the event is open to road-going Pre-1941 Cars (must run with wings/lights) with the Entry sub-divided into three classes for Short and Long Wheelbase plus a new class for cars without Buff Forms.

Entry Fee: £25.00

The Cheshire Life Concours has long been associated with VSCC events at Oulton since the 1960s, and sees the presentation of the historic silverware in association with the celebrated local publication.

Any Pre-1941 Car can be entered with the Cheshire Life Trophy and aftercare pack from leading car care specialists Supagard going to the winner, with all cars enjoying access to the premium display area overlooking the circuit, adjacent to the Members' Lounge.

Entry Fee: £20.00
The Entry Fee for both events includes an admission ticket for Formula Vintage at Oulton Park.
Entry Deadline extended until midnight on Sunday 4 June
Download Regulations and an Entry Form or enter online from the relevant event page via the links below – remember you will need to know the Buff Form number of the car you wish to enter and have a current payment card registered with the Club to use the online entry facility (a Buff Form is not required for the Invitation Class of the AutoSolo or for the Concours).
CLICK HERE for the Oulton Park AutoSolo
CLICK HERE for the Cheshire Life Concours
Contact the Competition Department now on 01608 644777 (ext 4, 5 or 6) or email andrew.tarring@vscc.co.uk
for more information.