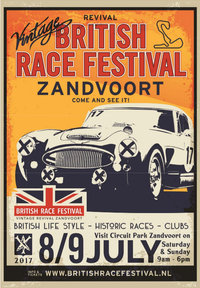 Friday 07 July 2017
VSCC Sports-Cars to star at the Zandvoort British Race Festival this weekend
Competitors of the Club's ever-popular 'Owner-Driver-Mechanic' series for Pre-war Sports-Cars descend on Circuit Park Zandvoort in the Netherlands to star in the historic venue's annual British Race Festival this weekend.
Nestled in the dunes to the north of the town of Zandvoort on the North Sea coastline, the famous circuit first opened in 1948*, hosting its first Grand Prix the following year, before eventually becoming the regular host of the Dutch Grand Prix for the Formula 1 World Championship from 1958 until 1985.
* It should be noted that first VSCC President and 1927 Le Mans winner, S.C.H. 'Sammy' Davis was brought in as track design advisor in 1946, who helped finalise the layout partly based on the existing road network on the site of the occupying German army during WW2.
With the help of Club Director Ian Standing, long-time champions of the 'ODM' series John Guyatt and Lesley Macalpine have gathered more than twenty regular participants to represent the Club at the international event, who will enjoy two 20-minute races across the weekend, alongside grids for Jaguar Enthusiasts Club, Ginetta and the Donald Healey Memorial Trophy.
Guyatt's own Talbot-Lago looks set to challenge for top honours alongside fellow frontrunners in Mark Brett's Ballamy-Ford and the Frazer Nash pairing of husband and wife, Simon and Jo Blakeney-Edwards, whilst Ian Standing pilots one of a trio of historic Riley Brooklands in the race. There is another strong turnout for MG with half a dozen entrants representing the famed Abingdon marque, led by the returning Montlhery Midget of Duncan Potter, whilst Talbot, Aston Martin, Austin and Bentley examples also fly the Union flag proudly, with Christopher Mann's stunning Alfa Romeo RL Targa also bringing some welcome continental flair.
Besides the racing action, the Festival is a celebration of British motoring, with additional demonstrations, parades, Concours and other Car Club features, supported by the Dutch Vintage Sports Car Club's 'Vintage Revival Zandvoort' and the local, celebrated Louwman Museum.
For more information visit
www.britishracefestival.nl/en
.
A busy weekend also sees Club Members participate on the annual Hertfordshire Tour tomorrow (
CLICK HERE
) whilst many of the Club's regular Speed event entrants also take part in the weekend's Chateau Impney Hill Climb in Worcestershire (
www.chateauimpneyhillclimb.com
).