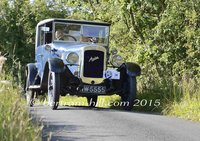 Friday 14 July 2017
Suffolk to host the VSCC Eastern Rally this weekend
Our VSCC Rallyists head east this weekend for the Club's next navigation event of the season – the Eastern Rally, taking place tomorrow Saturday 15 July.
Led by Clerk of the Course, Piers Hart, this year's edition moves 8 miles south west of Bury St Edmunds, with the start/finish venue based at the venue of the monthly VSCC Pub Meet, The Queens Head at Hawkedon.

Local Club Member, Don Smith has prepared a 100 mile route, which will explore the pretty countryside and villages of south-west Suffolk, whilst the event will accommodate the usual classes of entry, catering for experts through to complete beginners, whilst long-time Club Member, Nic Portway takes charge of the team of Marshals for the day.

As last year, the Rally will run straight through to mid-afternoon, when mine host of The Queens Head (a keen 'petrol head') will have an excellent lunch ready for the returning Competitors – at the request of Competitors from last year's Rally, there will be a short pit-stop halfway through the run.

Over two dozen teams take on the challenge in their Pre-war cars this weekend, with all eyes on the likes of Club Directors, Kevin Lee and Dick Patten, as they go head-to-head in the Experts Class, navigated by Annabel Jones and Andrew Mortimer in Frazer Nash and Riley respectively with the experienced teams of Garfitt/Pearce (Frazer Nash/BMW) and Lupton/Kirkham (Lea-Francis) also likely challengers for overall victory.

Piers's daughter, Saskia is one of a welcome entry of Novices on the day, with mother Sandra navigating in their Humber 16/50, whilst new local Club Member, Michael Watson makes his VSCC debut in the Champagne Class in his Bentley 3 Litre, alongside co-pilot Graham Barker.

The Club wishes all those taking part, whether Official, Competitor or Marshal a wonderful, safe and enjoyable day of Vintage motoring.