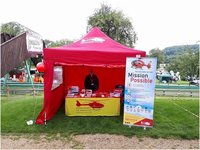 Monday 21 August 2017
The Midlands Air Ambulance Charity at Prescott Speed Hill Climb
This year's Prescott Speed Hill Climb saw fantastic performances and many successes amongst its 268 competitors at the famous Gloucestershire venue.

In addition to the excitement on the Hill, the official charity of The Vintage Sports-Car Club was present at this year's ever popular event actively raising money whilst adding a splash of colour. The Midlands Air Ambulance Charity is the Club's nominated charity for the next three years, and is a regular supporter of the annual event. Since supporting the Hill Climb initially in 2011, the charity has raised many thousands of pounds at VSCC events over the years with an additional £1100 raised at Prescott this year over the weekend from bucket collections. This is in addition to the £2000 the VSCC raised earlier in the year at the Club's AGM Weekend at the Hilton Hotel, Warwick.

The charity will be supporting other VSCC organised events across the Midlands, and collections will also be made for the charity throughout the season. The charity and Club also hope to co-host an annual fundraising event for the next three years to promote the great work that The Midlands Air Ambulance Charity do and their close association with the VSCC.

The heroic charity completes an average of 2,000 air ambulance missions per year, and is located in six different counties, making it the largest air ambulance operating region in the UK. Rescue missions cost around £2,500 and without government and lottery funding they depend on much-needed donations, in excess of £7 million annually to keep their aircrafts and staff operational 365 days a year.

Both the VSCC and The Midlands Air Ambulance Charity are delighted to share this partnership and look forward to continuing to supporting each other over the next few years.