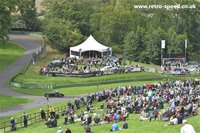 Wednesday 23 August 2017
The 2017 Speed Championship Standings So Far
The Vintage Sports-Car Club has seen some fantastic performances throughout our Speed Championship this year. Comprising of ten Sprint and Hill Climb events, the Speed Championship sees hundreds of competitors and their beautiful cars race at nine locations across the UK, starting at Curborough and ending the season at Rockingham.

Having completed seven rounds we are pleased to announce the current standings. In overall first place is David Furnell competing in his 1930 Austin 7 – The Toy. Second place is currently with Stuart Rose, in his Austin 7 Ulster – also made in 1930. Gary Clare is in third place with his 1928 Grannie. Current runners up include Graham Beckett, Jo Blakeney-Edwards, Geoff Smith, and Mark Purnell.
The next round will be held at Snetterton in Norfolk on a weekend of historic motorsport. Taking place over the busy weekend of 16/17 September will be the Snetterton Sprint, the Norfolk Tour, the LC&ES Autumn Weekend, the Snetterton Autosolo, and the unmissable final round of this year's Formula Vintage. Be sure to attend as a competitor, marshal or spectator – it's sure to be a weekend of family-friendly fun. The penultimate round will see a welcome return to Prescott for the Long Course. Building upon the success of the VSCC Prescott Speed Hill Climb at the beginning of August, we look forward to our Competitors and Members alike enjoying all that this venue fine has to offer. For the first time ever, VSCC members have the chance to compete on the National Circuit at Rockingham, located in Corby, Northamptonshire for the final round of the Championship. We look forward to this befitting finale and to our Competitors tackling the challenge of the speedy straights and corners as well as the tight hairpin known as 'Tarzan'.
To see the standings by class, please click
here
. To see the overall standings please click
here
.
For more information on upcoming VSCC events, please visit:
http://www.vscc.co.uk/page/events