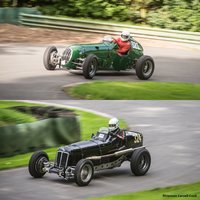 Monday 18 September 2017
Baxter and Topliss Head to Head at Prescott Once More
In a thrilling battle for the Fastest Time of the Day at the Vintage Sports-Car Club Speed Hill Climb at Prescott earlier in August, Club Members Ian Baxter and Nick Topliss went head to head for the Mays Berthon Trophy.
2016 title holder Topliss competing in R4D a 1938 ERA and Baxter in a 1937 Alta. A dead heat tied both competitors at 41.44 seconds – not something that you see every day! Baxter was ultimately declared the winner as her was faster on the first of the competitive runs. However, in an act of true sportsmanship, Baxter agreed to share the Mays Berthon Trophy with Topliss.
This weekend, both Baxter and Topliss will make a highly anticipated return to Prescott to compete in the Club's Long Course Hill Climb on the 23
rd
September – could we possibly see a repeat or will we see one of the fantastic drivers take the spoils on the day?
The field of some 145 competitors will be challenged by the Ettore's Loop extension of the Long Course and spectators can look forward to a remarkable display of Edwardian, Vintage and Post-vintage Thoroughbred Racing and Sports-Cars.
Be sure to be trackside on 23
rd
September at Prescott to witness Baxter and Topliss go head to head once more and immerse yourself in the wonderful world of historic motorsport.
Discounted advance Member tickets are available on the VSCC website
HERE
or via our Ticket Hotline 01608 644999until tomorrow. Alternatively you can pay on the day – under 16 year olds go free!