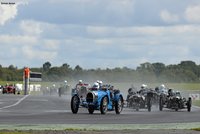 Tuesday 19 September 2017
A Triumph for Formula Vintage – Round 5 – Snetterton
This year's Formula Vintage came to an exciting close on Sunday at the popular Snetterton Circuit in Norfolk. Conditions were bright but damp for most of the day, with some showers in the afternoon – but our fantastic drivers refused to be rained off!

The first Race of the day was won by Iain Stewart in his 1929 Morgan Super Aero, taking the Redgate Mug in the final round of the Owner Driver Mechanic Season, followed by Sue Darbyshire in another 1929 Morgan Super Aero, just 0.19 seconds later. Third place was won by Mike Preston in his 1926 Bugatti T35B, who also won the Kenneth Bear Trophy in race 3.
The Donington Mug was won by Patrick Blakeney-Edwards in his 1930 Frazer Nash Super Sports – which was his first win of the weekend before his success with his win of the Historic Seaman Trophy in his 1935 Frazer Nash Shelsley Fane Monoposto.
More trophy winners included Tony Lees in his 1925 AC/GN Cognac with the Vintage Seaman; and Duncan Ricketts in his 1933 Riley Dixon with the Williams Monaco Trophy and the Bruton Trophy.
A variety of 1950s cars took part in the Archie Scott Brown Trophy Race, which was won by Colin Elstrop in his 1957 Lotus Elite.
The Garry Whyte Trophy was awarded to one of the Vintage Sports-Car Club's young Members, George Allen-Elbourn in his 1933 Riley 12/4. The trophy was presented once again by Linda Whyte in memory of her son Garry Whyte.
In an interesting turn of events, the Intermarque Challenge saw the Frazer Nash team take the top three places of the Race, however the team did not have enough finishers to qualify as the winners, and was therefore awarded second place after the MG team consisting of Harry Painter, Mike Painter, Roger Tushingham, Barry Foster, Mark Reece, Hamish McNinch, Andy King, and Christopher Edmondson took victory.
The Motor Sport Brooklands Memorial Trophy and the Longstone Vintage Racing Trophy will be presented to the 2017 Champions at the annual Awards Dinner in April 2018.
Formula Vintage will make a return in 2018, with the following provisional dates. Please note that these dates are subject to change.
Round 1 – Silverstone – 21
st
and 22
nd
April
Round 2 – Oulton Park – 19
th
May
Round 3 – Cadwell park – 24
th
June
Round 4 – Mallory Park – 19
th
August
Round 5 – Snetterton – 23
rd
September
Clease click
HERE
for the full results.