EVENT INFORMATION
Seaman Memorial Trophies Race Meeting
Pembrey, Llanelli, Carmarthenshire, South Wales SA16 0HX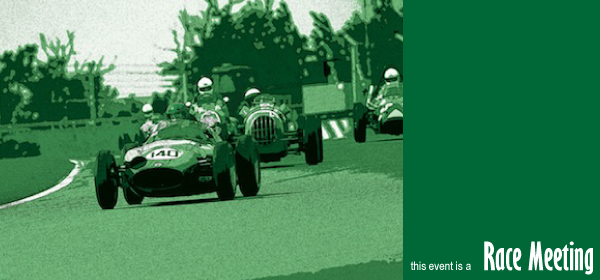 We are delighted to be returning to the South Wales circuit which is turning into a favourite amongst Competitors, Marshals, Officials and the Club staff. You are assured of a friendly welcome and a lot of interest from the local Marshals and spectators who relish the annual visit of our cars. Some of the Club's most prestigious trophies are up for grabs on the technical and flowing 1.4 mile circuit.
The usual mix of VSCC Sets will be on the programme along with a special invited grid from the Welsh Racing and Sports Car Championship as well as F3 (500) Racing Cars. Pembrey Country Park and the award winning beaches are only a short distance away; if you haven't experienced our Pembrey weekend perhaps this is the year you should!
The provisional programme includes (subject to change):
Race Title

Duration
Set 1
Vintage Seaman Trophy for Vintage Racing Cars
15 minutes
Set 2
Historic Seaman & Flockhart Trophies
for Front-Engined Pre-1961 Racing Cars
15 minutes
Set 3
Redgate Mug
for Standard & Modified Pre-war Sports-Cars
12 minutes
Set 4
Donington Mug
for Special Pre-war Sports-Cars
12 minutes
Set 5
Short Scratch for Pre-war Cars
10 minutes
Set 6
Short Handicap for Pre-war Cars
5 Laps
Additional and Invited Grids
Novice Short Scratch Race for Pre-war Cars
10 minutes
The Garry Whyte Trophy Handicap Race
for Pre-war Rileys
5 Laps
Race for F3 (500) Racing Cars
2 x 10 minutes
Welsh Sports & Saloon Cars
2 x 15 minutes
And don't forget...

VSCC TEAM RELAY RACE for Pre-war Sports-Cars (Evening of Saturday 20 August)
After a year hiatus in 2015, the Team Relay Race returns to Pembrey as one of the highlights of the Welsh Speed Weekend.
This ever popular event has a total race time of 90 minutes, and a maximum of 3 cars per team, with this reflected in the entry fee (£375
per team
). The role of the Team Manager is significant as pit stop tactics, start car selection and stint length strategy are the important decisions that need to be made!
So why not get a team together and join in the fun?
CLICK HERE
to download the Team Race Pack (including ASRs, Team Registration Form and Driver Entry Form) or please contact the Competition Department on 01608 644777 Ext 4 or email
callum.pharo@vscc.co.uk
for more information.
The VSCC Welsh Speed Weekend 2016
CLICK HERE FOR THE PEMBREY SPRINT EVENT PAGE
CLICK HERE FOR THE PEMBREY AUTOSOLO EVENT PAGE
Images for Seaman Memorial Trophies Race Meeting