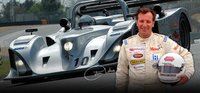 Thursday 26 September 2013
British GT and Le Mans Ace goes Vintage at VSCC Snetterton this Weekend
One of Britain's top GT racers, Calum Lockie, will be showing the Vintage Sports-Car Club members how a pro would do it, as he takes to the wheel of Sean Danaher's Maserati 6CM at Snetterton this Sunday for the VSCC's Seaman Memorial Trophies Race Meeting.
With experience covering 20 years and over 3000 days of total track time, Calum has raced a huge variety of machinery from single seaters, to Caterhams, Radicals and Vintage cars. He won the British GT Championship in a thundering 700 bhp Marcos Mantara and was BritCar Champion in 2003, 2006 & 2011. In 2004 he competed at Le Mans in the first ever Diesel powered Sports Prototype LMP1 car. To date he has contested sixteen 24 Hour races including Le Mans, Daytona, Nürburgring, Zolder and Silverstone.
This season he has been contesting the MSA British Endurance Championship in a Ferrari 458GTC and ran at Snetterton only last month. He competes in Sunday's race for Standard and Modified Pre-war Racing Cars in a 1938 Maserati 6CM that belongs to one of the race sponsors, Sean Danaher which he raced only a fortnight ago at the Goodwood Revival meeting, finishing a triumphant third in the Goodwood Trophy Race, the same race in which favourite for the Historic Seaman Trophy, David Morris, won in ERA R11B which also features on Sunday.
Facing an experienced field of ERA drivers it'll be a delight to see how a modern pro fairs against the drivers who know their machinery inside out. One thing's for sure, the VSCC competitors will be thrilled to share the circuit with someone of Calum's experience and will give him a warm welcome.
Practice gets underway at 9.00am with the first race at 1.00pm. There is a parking area for Classic and Vintage Cars and there are lots of off-track activities too including Vintage Steam Bus rides, jazz band and a cream tea tent. Tickets cost £17 per person on the day and children aged 13 and under go free. The new 'Bombhole' and 'Murray's' Grandstands are open on the day and access costs £5 per day, see the Stewards on duty.
Snetterton is 10 miles north-east of Thetford on the A11 from London to Norwich. Coming from the south, leave the M11 at junction 9 and follow the A11. From the north or west, use the M11/A11 and join the A11 after Newmarket.
For further information
click here
or visit the
Snetterton website