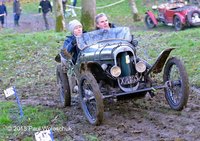 Thursday 20 November 2014
VSCC return to the Cotswolds for the 2014 Trials Season Finale this weekend
The Club will herald the end to another spectacular Trials Season this weekend, as we head to our Event HQ at Prescott Hill Climb near Winchcombe for our annual season-ending Cotswold Trial this Saturday 22 November.
A full entry of 110 Pre-war Cars will descend on the Gloucestershire countryside to tackle a total of 12 sections in the local area, with the final four of which situated within the grounds of the famous Hill Climb venue itself. There, we anticipate a bumper crowd of spectators to come and watch our members in action as the day's competition comes to a conclusion and the final standings are decided.
The event will conclude the Club's year-long Trials season of seven events around the UK, from Scotland to Exmoor, with the year's 'Champions' to be determined at the end of the day. Heading into the final round and with the traditional 'Best 6 from 7 scores to count' format, it's all still to play for.
Matt Johnston will be looking to cement his place at the top of the Routen Chaplin Trophy standings with another strong showing in his Austin 7 but an 'off day' may open the door for Donald Skelton in his similar model whilst Ron Bailey could spoil the party in his Austin, having entered one less event at this stage. There is a similar situation in the Long Wheelbase classes, as Paul Jeavons aims to follow his Lakeland Trial success with another victory in the Vauxhall 30-98 to finish off a great campaign in the Frost Trophy but Steve White is waiting in the wings with his sixth score yet to come and could take victory with a good performance in the Riley Ford Special. We thank Club Member and Trials Marshal, Peter Livesey for again collating scores throughout another exciting season.
The Spectator Hills at Prescott will open at 12 noon when Competitors will arrive back to the venue having completed the day's other sections. Here we encourage people to come to watch the action (absolutely no dogs); the Spectator areas will be clearly marked, where you will be able to get close to the action. There will be plenty of parking available in the Orchard from 11.00am (£3 will be charged per car to cover costs which will include an Event Programme) whilst a mobile catering unit will be open adjacent to the Orchard sections and Prescott Clubhouse will be open throughout the day providing breakfast, lunches and hot and cold drinks.
Here you will also be able to purchase/order your VSCC Christmas Cards whilst at the conclusion of the event, Competitors, Marshals and Officials will gather here for the announcing of the day's Results.
CLICK HERE TO DOWNLOAD SPECATOR INFORMATION FOR THE COTSWOLD TRIAL