COMMITTEE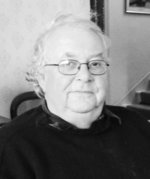 Head of Membership Sub-Committee
Dr Alisdaire Lockhart
As a kid, Alisdaire wanted to be a farmer and his favourite comic was the Farmers' Weekly, but he had no land or money so he considered a career in veterinary science, but could not pass GCE French, so he studied the life sciences graduating (eventually!) with a PhD for research into aspects of the neuro-endocrinology of female mammalian reproduction.

However, research moved too slowly for him so he shifted into the marketing of higher education, ending his full-time career as Director of Development & Corporate Communications at University College London.

He has been married to Trisha for nearly forty years and has four (one deceased) children, now living in the UK, US and Australia respectively.

On retirement, Trisha and Alisdaire moved north to the Scottish Borders, where Trisha's tribe abides, but he continued fundraising, helping Bletchley Park and Abbotsford raise some £20 million between the two organisations.

He has kept rare breeds poultry for around sixty years, showing them at national shows.

He has put five early Vauxhalls back on the road and has three other projects underway.

In between all these activities, cooking and gardening, he spends much of his time driving up and down the M6 motorway.