Hill Climbs & Sprints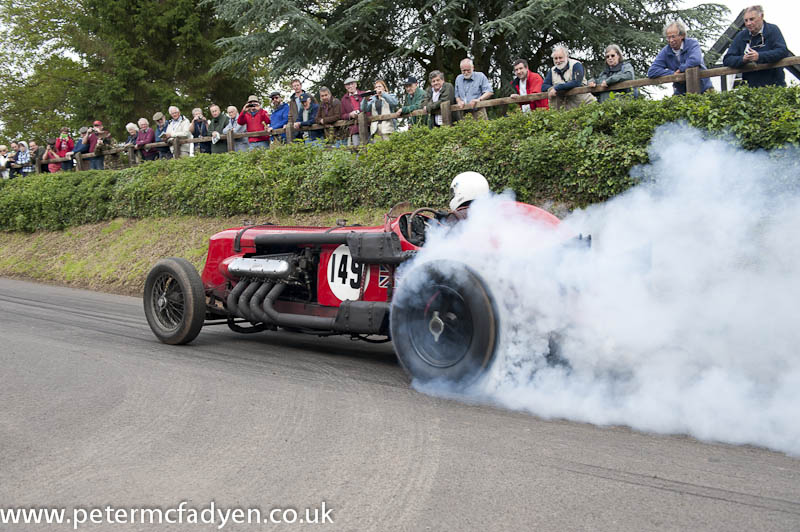 What is a Speed Event?
Quite simply a speed event is the driver against the clock over a set course, usually a permanent motor sport venue, with the aim to be the quickest car in its class. A 'Sprint', or occasionally 'Speed Trial', takes place on a flat course such as Curborough and a 'Hill Climb' takes place, unsurprisingly, on a course with a gradient such as Prescott. There are more hill climb and sprint venues in the country than any other motor sport.

At all our speed events drivers have the opportunity of two practice runs in the morning, or on Saturday if it is a 2 day event, followed by 2 competition runs in the afternoon or on the Sunday. Most VSCC events allow for a car to be shared by 2 drivers.

All our Speed events cater for Pre-war Sports and Racing cars which are divided into capacity classes. A number of them include classes for Post-war racing cars and 1950s Sports-cars. The entry numbers can range from 100 to over 250 depending on the venue.
Where are our Events?
We hold a Speed Championship typically consisting of eight events each year; one sprint and seven hill climbs. Normally at the following iconic venues: Curborough, Wiscombe Park, Harewood, Shelsley Walsh, Prescott and Loton Park,
Why enter a Speed Event?
No formal training is required for a Speed event, although most venues have driving schools, but you will need a Motorsport UK "Interclub" licence.  With no other cars to concern you, only the clock and the boundaries of the course, Sprints and Hill Climbs are the best introduction to high speed VSCC motor sport.

Some thoughts from Club Members:

'Great day and great company, didn't see a single wheel turn in anger (but that often happens). As usual there was a great selection of cars, many of which you don't see very often. Great to see Nanette and Kim II. Highlight of the day was a non-competing car. Thank you to all the marshals for all their hard work. Apart from Prescott this is my favourite event of the year.' Tom Hunt

'I can only echo what has been said already but a huge thanks to the marshals on the day, they were great and made the day run so smoothly; all of them did a great job. Sprint was fun and more challenging that I had expected, in fact, for me, it got more challenging as the day went on. Great to be first out after rain for each half of the day, made things a little more exciting if a tad slower but who cares.' Charles Beeden
How do I enter?
As with all VSCC events, there are three ways you can enter:
Online   (click here) 
Download a PDF entry form and send it back by either post, email or fax (details at the bottom of this page)
Send a SAE to the Club office for an entry form (address at the bottom of this page)
In terms of memberships and licences, you are required to be a VSCC member and you will require a Motorsport UK competition licence to a minimum of  RS Inter Club (UK Only)
If an event is over subscribed we select the final entries in line with the Club's selection criteria
Technical Requirements
Your car will require a Eligibility Document (Buff Form), if you don't already have one of these please click here (
click here
)
To see the Technical and Safety Requirements 
(Click here)
To see relevant VSCC documents
(Click here)
This list is not exhaustive; you will also need to consult the current year's Motorsport UK Competitors' and Officials' Yearbook in addition to individual event Supplementary Regulations.
History
The first Speed event organised by the VSCC took place on 21st August 1935 on the gravel drive leading to Howard Park Hotel, Aston Clinton. Not only was this event open to VSCC members, but invitations were also sent to member of Frazer Nash, Brighton & Hove, Women's Automobile & Sports Association and North West London Car Clubs.

The first car to take the honour of opening VSCC's love affair with Speed events was Lieutenant-Colonel J Clutton's 16hp 30cwt 1910 Fafnir, and ultimately lead to the inspiration for the Edwardian Classes which form an interesting and spectacular part of today's Speed events.

Our most famous and popular Hill Climb takes place at Prescott Speed Hill Climb, with the first running of this event taking place in 1938.

Marshalling
We always need lots of marshals for Hill Climbs and Sprints. In addition to the obvious trackside marshalling duties, we also need volunteers to assist with Paddock, Start line and administrative duties such as signing on, and results co-ordination.

All of our Speed events are open to the public and volunteers are needed to sell programmes, assist with car parking and on the Club's display unit.

If you would like to get involved and help by marshalling at a Speed event please see Marshalling pages.