Marshals and Volunteers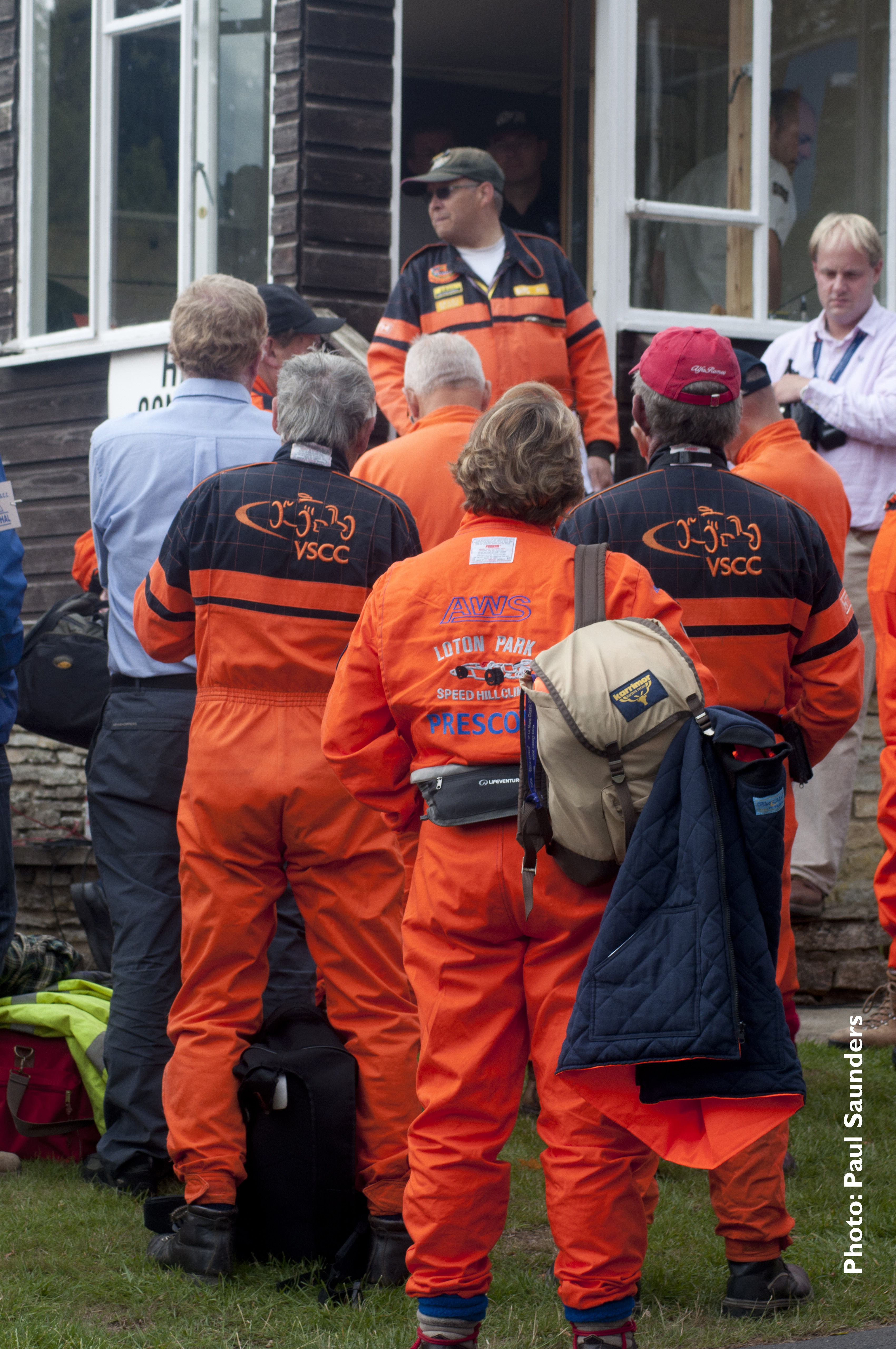 Marshalling can be one of the most rewarding ways to get involved with motor sport up close, and at the VSCC we rely on a huge number of volunteer marshals to help us make our events happen.
If you do not have an eligible car of your own to compete with then marshalling is the next best way to be closely involved in the Club's activities. The VSCC is proud to boast a dedicated core of marshals, many of whom volunteer for duties at several events each year, making it one of the most social aspects within the Club.
Duties vary from event to event and with a wide variety of jobs there is something for most ages and abilities.
As with all motor sport, the extensive VSCC calendar of events could not happen without the hard work and dedication of its volunteer marshals. They are not paid, although each marshal who "signs on" does receive a sum to cover lunch expenses at our Race and Speed events while Marshals' Draws take place at all Speed, Trials and Driving Tests, the winner receiving a bottle of champagne.
The highlight of the Marshals' year with the VSCC is undoubtedly the annual Marshals' Dinner where those volunteers who have attended the most events are invited for a three course meal by way of thanks for their efforts over the year – this is also where the Marshals Awards are given.
How do I volunteer to Marshal?
There are a number of ways to volunteer to marshal at VSCC events: -Club Members can complete and return the Marshals' Volunteering Form which is sent out each year with the January or February Newsletter. -Volunteer for individual events Online, ensuring to select your preferred duty.
-Downloading the volunteering form and sending it into the VSCC office at Chipping Norton.
-Contact the Competition Department with details of the event and your preferred duty.
Email comps@vscc.co.uk or call
01608 644777
ext(4).
Marshals' Allocations for some events are done by the local organising teams, in which case you will need to contact them directly. Details of who to contact is highlighted for each event both in the Forthcoming Events section of the monthly Newsletter and online.
You will be contacted with Marshals' Instructions, including your allocated duty and all time and location information approximately 10 days before the event; this will be by email if you have previously provided us with an address or by post for those without or for events where printed tickets are required. If you have not heard from the Club by the Monday before an event, please contact the Competition Department; we never turn away any volunteers!
If you find you can no longer attend an event you have volunteered for, please inform the Competition Department as early as possible so we can ensure we have enough people to cover all duties.
Please download the Motorsport UK Marshal Registration Form.
We always try to give as much information as possible to our volunteer marshals.
To see all the documents to help both experienced and new marshals.
(Click Here)
For all other enquiries about Marshalling with the VSCC, please contact us.
What duties could I undertake?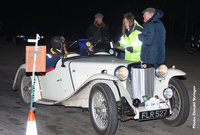 Rallies
Marshals are required at the start and finish and at each manned control throughout the route, mainly to monitor competitor arrival times to the nearest minute as well as direction of approach etc. This can be extremely pleasant on a hot summer's day but on a winter's night…….competitors will be so pleased to see you that you'll get a warm glow. You nearly always get to meet all of the competitors and see all of the cars entered.  Rallies cannot run without marshals at controls. Often marshalling teams man a control in each 'half' of the event. Marshals for rallies are normally organised by the local area organisers but if you volunteer to the Club office we will forward your name.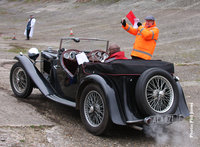 Driving Tests
At each test it is necessary to monitor the performance of every competitor that attempts it. You must observe for correct route through the test, whether bollards or markers have been hit, stopping across the line etc and somebody needs to do some timing to the nearest second. You remain very close to the action and must also ensure spectator safety. Marshals for driving tests are normally organised by the local area organisers but if you volunteer to the Club office we will forward your name.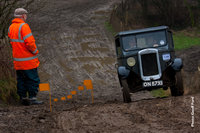 Trials
The trials season is usually wet and muddy and you will need to spend all day in a remote location waiting for competitors to attempt sections. Observation of route and achievement are the essential elements but also the safe extraction of cars from sections and spectator safety figure high on your duties. Trials are always great fun and marshals always seem to enjoy themselves. Marshals for trials are normally organised by the local area organisers but if you volunteer to the Club office we will forward your name.
What duties could I undertake?
For those new to marshalling, here is are brief outlines of the tasks involved for the main marshalling duties at events:
Administration/Office A forward-facing role and a key link between senior officials and competitors. Duties include signing-on of competitors or other marshals, entering times/scores/results into a master programme or computer and organising score cards or competition licences and generally ensuring the smooth running of the administration office during an event. Anybody with computer skills would be very welcome. If you worry that you lack experience or knowledge do not be deterred: we have those with expertise to guide you.
Paddock Marshals Keep good order and safety throughout the paddock areas and keep a steady flow of competitors to the assembly area/start line. They also help to maintain general spectator safety by preventing dangerous or prohibited acts within their area of responsibility. Particular reference is made to inconsiderate or dangerous driving or other unacceptable conduct by competitors or their helpers. A courteous but firm approach is essential and any serious breaches of safety or unacceptable conduct should be reported to the Clerk of the Course or Event Safety Officer. Orange (VSCC) overalls preferred.
Assembly Area  When you see cars appear on a race grid or line up in an orderly fashion at the start line for a sprint or hill climb this is as a result of much work by the paddock and assembly team. They work in harmony with the control centre and are one of the vital elements to ensure an event runs to time. You will see the machinery at close hand and naturally it can be noisy – ear protection will be provided. Warm waterproof clothing is wise as you will be exposed to the elements. You will be guided by a team leader so previous experience is not essential but be prepared to be on your feet most of the day and be happy working within a team. Orange (VSCC) overalls preferred.
What duties could I undertake?
Start-line
marshals are responsible for ensuring that all competitors are correctly positioned on the grid once released from the assembly area. Start-line marshals usually enjoy a later start than other marshals at VSCC race meetings (but not at sprints and hill climbs where practice runs require a full start-line team). Orange overalls preferred.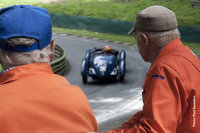 Track/Experienced
These are the Flag/Incident marshals, who operate at designated track-side posts to give flag signals to competitors during a race or to deal with incidents that occur on that section of the track. A certain amount of training is required, as is a good deal of attention during practice and racing. You will be exposed to the elements and should wear full weather protective clothing, including protective gloves. You will be very close to the action but closely focussed on what's happening on the track. Sometimes you will act on your own initiative as a result of what happens on the track and sometimes on instructions from sector marshals. Flag marshals can also be observers. Orange (VSCC) overalls preferred.
What duties could I undertake?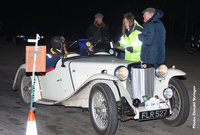 Post Chief The Post Chiefs
(formerly Observers) are experienced marshals who act as the eyes and ears of the Clerk of the Course. Duties are to ensure the post is fully equipped, all equipment is working and has a working means of communication with Race Control, to brief the team and ensure all on post know their duties emphasising personal safety at all times, advising on any special racing instructions ie safety car regulations, starting procedure, and if there are any specific hazards to that particular post to be aware of.  Keep Race Control informed of all incidents and occurrences through-out practice and racing, including any issues to do with the track and spectator areas.   Deal with clearing away any incidents including reporting any infringements of regulations to Race Control.  Offer advice and encouragement to team members, especially trainees and ensure completion of marshals Personal Record Cards.  This is important for any marshal seeking an upgrade to a higher grade which is undertaken on post by an Examining Post Chief to a set of guidelines published by the MSA.   Orange (VSCC) overalls preferred.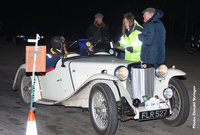 Eligibility Scrutineer
The Eligibility Scrutineer plays an important role across all disciplines of the Club's competitive calendar. Working closely with the Eligibility Sub-Committee, the Eligibility Scrutineer will assist at events, specifically guiding on Club Eligibility issues, which can include dealing with any issues of Eligibility that arise on the day and carrying out any pre-arranged inspections of cars entered. A strong understanding of the Club's Eligibility rules and a friendly but authoritative disposition are vital. (If you are interested in getting involved with Eligibility, please contact the Club Office and we can put you in contact with a member of the Eligibility Sub-Committee for more information).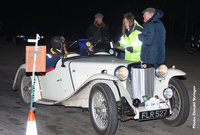 Pit Lane/Spectator Control
The Pit Lane at any race meeting is a restricted area and Pit Lane marshals are responsible for ensuring that only authorised personnel are present. This is particularly important at VSCC meetings where the deliberately relaxed access to the paddock areas can lead to spectators wandering beyond safe limits. At all types of meeting an element of spectator control may be necessary. Such marshals need to be tactful but firm with errant spectators. Orange (VSCC) overalls preferred.
What duties could I undertake?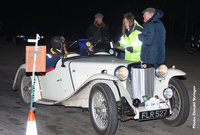 Car Park Marshal
Although this doesn't seem a very glamorous job, you always get to catch up with friends who you may not normally see at an event. This job is normally done on a rotation system, so you will get time to watch some of the competition in action.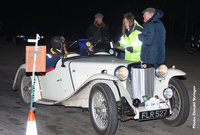 Programme Sellers
A highly social and interactive task at our public events either roaming the venue or posted at various entry points. This is organised on a rotational basis (often a choice of time slots) so you will always get the opportunity to enjoy the event and meet friends and acquaintances.  
Press Office At race, hill climb and sprint events up to 100 media need to sign on. Press Office officials oversee this process and act as a point of contact. This is an enjoyable task if you are a sociable person and an ideal duty for those who would prefer a less active job indoors. The office is often located overlooking the track and the job is normally done on a rotation system, so you will get time to watch some of the competition in action.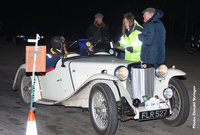 Club Display
The Club Van is the social focal point in the paddock at our major events and must be manned throughout the day and is also taken to motoring shows around the UK. You will work in a small team, where a good knowledge of the Club and its history and current activities is advantageous to answer any queries and engage in conversation with non-member visitors, as well as signing up new members, selling club regalia and event programmes. This role also involves the erection and disassembly of the Club display equipment at the beginning and end of the day.
Training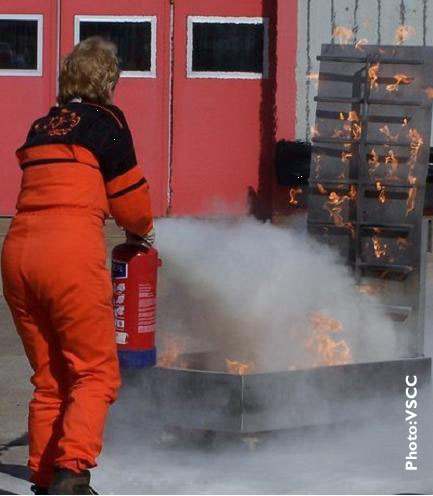 Training
The Vintage Sports-Car Club organises two to three Marshals' Training Days each year, covering a range of skills and disciplines in various areas of the country and are held in conjunction with the MSUK and the British Motor Sport Training Trust (BMSTT).
Championed by current Club Director and MSUK licenced Training Instructors who have many years marshalling experience at some of the world's biggest motor sport events ensure the Club's own marshals receive the very best and up-to-date training topics. 
Over the last few seasons, these have included Introduction to Race/Speed Marshalling (concentrating on flag and trackside skills), Trials Marshalling, Fire, Incident and First Aid Training, Driving Standards Observers' Training (racing) and Incident/Report Writing.
You do not have to be registered with the MSUK to attend our Training Days and they are usually open to Non-VSCC Members as well.
Marshal's Dinner