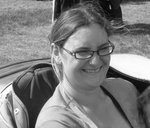 Head of Trials Sub-Committee
Tania Brown
I have been involved with the VSCC for as long as I can remember, having been actively involved with marshalling for 20 years at various Race, Sprint and Hill-Climb events. For 2013 I look forward to filling a rather large pair of shoes in taking over the role of Chief Paddock Marshal at Prescott.

The family Austin 7 provides an opportunity to compete in Trials and Driving Tests, something I also enjoy immensely. I also marshal for a variety of other clubs and I can truly appreciate the unique experience the VSCC offers, something I am keen to preserve whilst ensuring that the Club continues to build on its strong base, offering something for all members.

Encouraging families within the VSCC is also very important to me, my daughter attended her first race meeting at 2 weeks old and the 30-98 was fitted with a child seat before we had even purchased a cot. In this modern age I am confident with the use of social media but I believe nothing beats good old fashioned communication, preferably over a good pint.