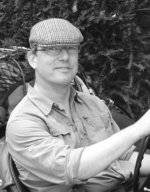 In 2001 Kevin was introduced to the VSCC by his better half Annabel Jones. He became an active competitor initially in his Swift (it wasn't!) and then Alvis 12/50 and quickly got stuck in; first marshalling and then organising events, combining his commercial business skills with experience gained from organising national and international events with the British Aikido Association. Being a real ale man and upon discovering there was no local pub meet, he started the London Noggin.

He has twice been the LC&ES Competition Secretary, helped run the Club Meeting Point and Race Retro presence, and organised the 75th Anniversary Driving Tests at Malvern. He enters Sprints & Hill Climbs, Driving Tests and Rallies, bounces on Trials and marshals when possible. He is the current Clerk of the Course for the New Year and Double Twelve Driving Tests at Brooklands where he is also Secretary of the Brooklands Trust Members.

Bringing an IT background together with strong commercial and management experience, he is looking forward to working with his new role on the Committee.