COMMITTEE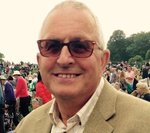 I have been a member of the VSCC for 25 years building upon a lifelong interest in cars.

I purchased my first vintage car, a 1927 Austin 7 Chummy in 1994 and have owned a number of vintage cars since then which has enabled me to participate in track races, hill climbs and autotests at national and local club levels. I have also marshalled for many years at trails events and, over recent years, I have taken on duties as driving standards officer.

I started my working life as an apprentice toolmaker and stayed with the company almost 25 years progressing to the post of production section manager. In 1990 I left with 3 others to start our own toolmaking company and by 2000 we employed 55 staff.

In 2002 I was encouraged by the CEO of a national Employers Federation (EEF), of which I was a board member, to apply for the position of Regional Manager for Lancashire and South Cumbria. EEF support member companies with employment law, HR and Health and Safety issues. The companies ranged from small companies employing 5 staff to multi-national companies the likes of Heinz. I stayed at the company for 4 years before my retirement.

I have been involved in volunteering with various organisations over the years, offering my skills and experience. This included vice chairman of a school governing body, Quality and Health and Safety adviser at the local hospice, First Responders, and our local volunteer-run rural mini bus service.

I have a keen interest in the role of volunteers as, without their input, many organisations would cease to exist.

My main hobbies are vintage cars and playing and conducting brass bands.